Archer Aviation achieved "significant milestones" on its way to certification of its four-person air taxi Midnight, the company's chief executive said on 9 March.
"We have advanced toward this goal faster than anyone thought possible," Adam Goldstein told analysts on the company's fourth-quarter earnings call on 9 March. The fourth quarter was "the most exciting quarter to date [and] 2023 is shaping up to be an incredible year".
The San Jose-based electric vertical take-off and landing (eVTOL) vehicle developer posted a loss of $95.4 million for the last three months of 2022, and $317 million during the full year. The company says its expenses were $108 million in the final quarter of the year, and during the full year 2022, it spent $347 million.
Archer ended the year with $531 million of cash, cash equivalents and short-term investments on the balance sheet. The start-up now has "approximately 500 employees".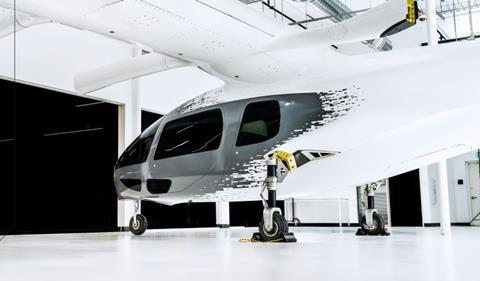 "The Archer team achieved significant milestones throughout 2022 across four key areas: technology, certification, manufacturing and commercial operations, giving us tremendous momentum heading into 2023," Goldstein says. "Our focus continues to be on achieving the most efficient path to commercialisation and we are aiming to complete the first build of our conforming Midnight aircraft later this year with piloted flight tests of this aircraft beginning in early 2024."
Also on 9 March, Archer said it was "nearing completion of the final assembly" of the company's first Midnight airframe.
"All major aerostructures (i.e., wing, tail and fuselage) have been built and mated together," Goldstein says, adding that the Archer team had "also installed a significant portion of the wiring, electronics, actuators and other systems".
"Archer is currently targeting to begin flight testing of this aircraft in mid-2023. This aircraft will be used to enable company testing in advance of 'for credit' certification testing."
Executives say this non-conforming aircraft is representative of the conforming aircraft, which will be completed in the fourth quarter of 2023.
The company has "a lot of confidence that the design we have today is very close to the design that is going to get certified," says Tom Muniz, Archer's chief operating officer.
"That conforming aircraft would then begin piloted flight test operations in early 2024," Goldstein adds. The company wants to build "six or more" of these aircraft for the certification campaign.
Earlier this week, Archer had said it had begun construction on its manufacturing facility in Covington, Georgia. The facility will initially cover 32,516 sq m (350,000sq f) and be capable of producing 650 aircraft every year. The facility's groundbreaking occurred on 1 March.
It can be expanded by 74,322sq m, which the company said will allow it to manufacture up to 2,300 aircraft annually.
In January, Archer also said it had expanded its relationship with Stellantis, in which the two companies will manufacture the aircraft together. Stellantis owns numerous major automotive brands including Citroen, Chrysler, Opal and Peugeot.
With seating for four passengers and a pilot, Midnight is set to have 12 wing-mounted rotors and a V-tail. The aircraft will be designed to take off vertically, with its six front rotors tilting from vertical to horizontal positions for forward flight.
Midnight's charging time of approximately 10min between flights will allow for quick back-to-back trips of less than about 17nm (32km), carrying payloads exceeding 450kg (1,000lb), the company says. Archer hopes it will fly for the first time in the first half of 2023 and achieve certification for commercial service by the end of 2024.
Archer first flew its two-seat demonstrator aircraft, Maker, in December 2021.