Archer Aviation and investor Stellantis are "moving full speed ahead" to begin and ramp-up manufacturing of the air taxi that the pair hope will revolutionise travel later this decade.
The Silicon-Valley-based electric vertical take-off and landing (eVTOL) vehicle developer has come to the Paris air show for the first time, showing off its Midnight four-person air taxi at the event's dedicated air mobility area in Hall 5.
Archer's chief executive and co-founder Adam Goldstien envisions a world where eVTOL aircraft are plentiful and affordable, and can create a mobility future without the restrictions and frustrations of ground-based transportation networks. He's targeting "hundreds or thousands" of eVTOL aircraft plying the skies over the Los Angeles Olympic Games in 2028.
But that future could begin as soon as next year. The company is planning on moving towards "a high cadence of operations", going from "a couple of test flights a day to thousands of test flights per month", Goldstein said on 19 June.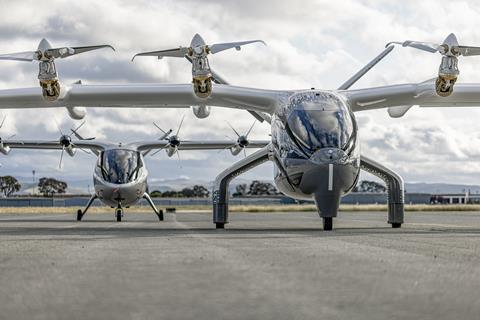 "2024 is a huge year for us as an industry, because we're moving into the flight-test-for-credit [programme] with the Federal Aviation Administration," he says. "So that means in Archer's case, you're going to see six-plus piloted conforming planes flying around Silicon Valley every day, multiple times a day, racking up thousands of flights over that year."
"That all comes alive next year," he says.
Archer's Midnight will be capable of flying distances up to 87nm (161km) but be "optimised" for 17-43nm flights. It will be "engineered" to fly at speeds up to 130kt (241km/h).
Automotive giant Stellantis, which holds a strategic stake in Archer, is helping the company with its industrial manufacturing plans, and collaborating on its Covington, Georgia plant, where ground was broken earlier this year. Initially the facility will produce 650 aircraft per year, ramping up to 2,300 later.
Asked what moved the company – which owns brands including Citroen, Chrysler, Opal and Peugeot – to take a chance on advanced air mobility, Stellantis chief executive Carlos Tavares cites a desire to get a foot in the door on a new innovative transportation technology.
"Freedom of mobility is extremely fundamental to us," he says. "We believe that the reason why we exist is to find solutions. The world is more and more complex. There are more and more bumps on the road we need to go around those bumps."
Archer recently hired former acting FAA Administrator Billy Nolen to help it navigate the aircraft's certification process, with the aim of certifying Midnight in 2024, and launching commercial operations in 2025.
"The certification process is obviously the big key unlock for our industry, and the former administrator of the FAA wouldn't come and join the industry if he didn't think that they would come to market on a timeline that we've set out," Goldstein says.
Industry and regulators must work hand-in-hand to find a way to bring the vehicles to the public as soon as possible, he adds.
"They are a safer, quieter, lower-cost form of transportation than a lot of the alternatives that you have out there today."
While the FAA has taken a pragmatic, "performance-based" approach to certification standards for eVTOLs, European aviation regulators are moving at a slower pace, bringing what Goldstein calls "a more prescriptive-based approach, which is a bit more restrictive in terms of how we can do that."
"But I do think what will happen is the industry will work very closely with the global regulators to make sure we can bring these vehicles to market," he adds.
Archer and Stellantis are targeting 2028, when Los Angeles hosts the summer Olympic Games, as a realistic target for getting "hundreds or thousands" of advanced air mobility vehicles into the sky, and launching a "mass-scale use of these air taxis". "That would be a really great milestone for this industry," Goldstein says.
Both chief executives think it's realistic that the technology, public acceptance and a new air traffic control infrastructure which must integrate the aircraft into the National Airspace System will be ready for prime time by then.
"When we discussed with Adam and the Archer team, it was quite obvious that we share the same vision of the importance of protecting freedom of mobility - on the ground, or in the air," says Stellantis' Tavares.
"And the cherry on the cake is that it's fun. That's the reason why this partnership is a blessing for us."