Archer Aviation co-founder Brett Adcock has resigned from the company's board of directors effective immediately, less than three weeks after he stepped down from the co-chief executive post.
In a 9 May Twitter post, Adcock says his "vision for Archer is not the same as that of the current board of directors". He does not give any further details about his surprise departure. Archer is developing an electric vertical take-off and landing (eVTOL) air taxi called Maker.
"When I came up with the idea for Archer, I dreamed of one day getting to the point where our actions could make a positive contribution to humanity and we put the company on a path to achieve that," Adcock writes.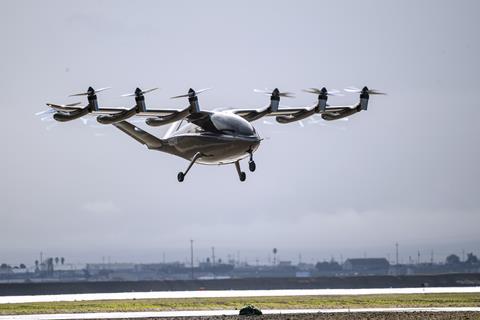 "Over the last four years I hired the best team of my career, raised $1 billion of capital, took Archer public on the New York Stock Exchange, designed and flight tested our full-scale electric vertical take-off and landing aircraft Maker, took a leading role within FAA certification, vertically integrated key technologies – including aircraft design, flight software, electric motors and battery systems – and, most importantly, helped advance the benefits of sustainable air mobility," he adds.
"I put my heart and soul into Archer and am proud of what we accomplished," he says.
Archer did not immediately respond to a request for comment.
Adcock stepped down as co-chief executive of the Palo-Alto-based company on 21 April, leaving Adam Goldstein as sole CEO.
The company introduced Maker last June, and the two-seat aircraft took its first flight in December. Maker has 12 wing-mounted rotors, 52nm (96km) of range and can cruise at up to 130kt (241km/h), according to the company.
Archer has said it will unveil a four-seat version in 2022, and that it anticipates having that variant certificated for passenger operations by 2024.
In February 2021, United Airlines committed to taking 200 of the in-development aircraft in a deal worth up to $1 billion.
Adcock leaves Archer as it remains locked in an acrimonious legal battle with Mountain View-headquartered competitor Wisk.
Boeing-backed Wisk sued Archer, alleging patent infringement and trade secret theft. Wisk claimed outgoing employees – bound for Archer – stole design documents, which they turned over to Archer. Wisk is also developing an eVTOL for urban air mobility use.