Electric vertical take-off and landing (eVTOL) aircraft developer Archer Aviation has published an image of its piloted four-seat production aircraft, which it's named "Midnight".
Midnight is the company's second eVTOL after it introduced the two-seat Maker prototype in June 2021. It's also the design it aims to certify with the FAA for commercial passenger service in the coming years.
"Archer is now advancing our commercialization efforts," chief executive officer Adam Goldstein said on 10 August. "We are executing our plan including the development and certification of our production aircraft, Midnight, and initiating efforts for our early launch markets for commercial operations."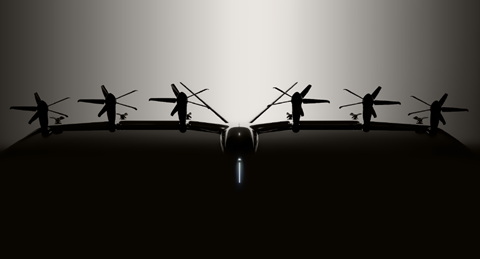 The Silicon Valley-based urban air mobility company (UAM) completed the preliminary design review (PDR) of Midnight "earlier this week", and its maturity has given the company "confidence that our technology supports our commercial objectives", Goldstien says.
In a letter to shareholders, Archer revealed that "a majority of the company is now working on Midnight".
The new aircraft is expected to be able to fly up to 100mi (161km), and to "complete our target mission of successive 20-mile flights with a charging time in between of approximately 10 minutes" the company writes. It's being built to be able to complete up to 45 missions per day.
Archer executives say the craft's payload will be "greater than" 454kg (1,000lb). Goldstein says, though, that there is a "several hundred-pound" margin.
"We expect the vehicle to grow as we go through the certification process," he adds.
While the company has been focused on flight-testing the smaller Maker design, it's shifting its efforts efforts to bringing Midnight to market.
The published image is a silhouette of an aircraft that appears to have 12 wing-mounted rotors and a V-tail, similar to Maker. No further details about the craft can be gleaned from the image.
Goldstein says that Archer will reveal more about the aircraft later this year, but in the meantime will be working toward several important milestones.
These include agreeing with the US aviation regulator on the means of compliance for production aircraft, and selecting a location for and breaking ground on the eVTOL's initial manufacturing facility. So far, the company has "evaluated over 200 sites across the US", and it will also announce that decision later this year.
Archer is in the process of choosing its suppliers for the new aircraft, executives say. Last month, Archer said Honeywell Aerospace will supply the flight-control actuation and thermal-management technologies for the new in-development airframe while FACC will supply key fuselage and wing elements.
Meantime, the company's two-seat prototype aircraft, Maker, is moving towards its first full transition flight, Goldstein adds. It is flying several times every week, sometimes multiple times a day, and Archer remains on-track for the craft's first full transition hover-to-fixed wing flight by the end of this year.
Earlier in the day, Archer had said that United Airlines had paid $10 million in a first instalment on its conditional order with the start-up, representing what the companies said is a "watershed moment" for the eVTOL industry.
Archer CEO Goldstein says that with the down-payment, United is "securing [and] … locking in its spot" in acquiring the first of up to 200 urban air mobility aircraft that will be able to operate in dense urban environments. The two companies are already in conversations about launch cities and routes.
"Archer will become one, of if not the only company in 2025 that will have aircraft they can actually buy," Goldstein adds.
He says he believes customers will be eager to try out Midnight due to "the 'cool factor' of these vehicles" in addition to the convenience of being able to skip ground-based transportation networks that can often be snarled by traffic.
"Take that and add a brand like United to the vehicle itself, and I think you have a high degree of confidence that there will be a lot of users that will want to adopt the product really early," he says.