Electric air taxi developer Archer Aviation lost $181 million during the second quarter of 2023 as the start-up pushes to certificate its Midnight aircraft.
The California company said on 10 August that it held $408 million in cash, cash equivalents and short-term investments – down from $655 million on 30 June last year.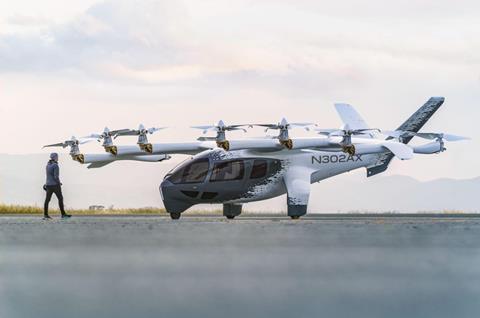 The company's quarterly loss is primarily attributed to investments in advanced technology and aircraft parts and materials, Archer says.
However, Archer also reports a new $215 million investment from Boeing, Stellantis and United Airlines as the company settled its long-running lawsuit over intellectual property rights with rival air taxi developer Wisk Aero, a wholly owned subsidiary of Boeing.
The electric vertical take-off and landing (eVTOL) developers are now collaborating on autonomous technology for future variants of Midnight.
"I am thrilled to have the Boeing investment and to be working with them and Wisk on autonomy," Adam Goldstein, Archer's chief executive, said during the company's quarterly earnings call. "Boeing's support can only help further the growth and development of the entire AAM [advanced air mobility] industry."
Archer has also received a special airworthiness certificate from the Federal Aviation Administration (FAA), clearing it begin flight testing "in the coming weeks", Archer says.
"This is the culmination of an extensive flight-testing campaign over the past couple of months as our flight-test team has been hard at work getting the aircraft ready to fly safely," Goldstein says. "Now that we are certified to fly, we will definitely ramp up both our flight testing regiment and our fleet size and continue to march for the final stages of our certification programme."
The start-up plans to begin for-credit certification flying early next year, and is working with the FAA to approve its certification basis.
Archer is racing rival northern California eVTOL developer Joby Aviation to bring the first air taxis to market in 2025. Joby is widely believed to have the edge, but Archer's chief operating officer Tom Muniz says he believes "we will take the lead over the next 12 months in the race to bring the first commercial aircraft to market".
During Joby's 2 August earnings call, the company said it held nearly $1.2 billion in cash and short-term investments but also reported a second-quarter loss of $286 million. Joby flew the production prototype of its air taxi for the first time late last month.
Archer recently landed a $142 million contract to deliver up to six eVTOLs to the US Air Force and has courted interest from the US Marine Corps.
The company also has a partnership with United Airlines, which intends to buy 200 Midnight aircraft for a value of $1 billion.
"The team at United is working hand-in-hand in important launch markets such as New York City and Chicago," Goldstein says, "where United is developing innovative approaches to operating our aircraft within its Newark and O'Hare airport hubs to enable a world-class customer experience door-to-door."