US air taxi maker Archer Aviation reports a third-quarter cash position significantly lower than the one it held at the end of the quarter last year.
The San Jose-based company said during its quarterly earnings call that it held $461 million in cash, equivalents and short-term investments, compared with $601 million on 30 September 2022.
Yet to launch revenue-generating air taxi operations, Archer reports a loss of $51.6 million during the quarter. That is compared with a $91 million loss during the same three months of 2022.
"Our operating expenses continue to be primarily driven by investments in head count, aircraft parts, materials, tooling, testing and other non-recurring supplier costs supporting infrastructure required to scale our business," says chief financial officer Mark Mesler.
Archer flew its all-electric aircraft Midnight for the first time during the third quarter, ahead of a planned 2024 flight-test campaign that will involve a fleet of six Midnight air taxis.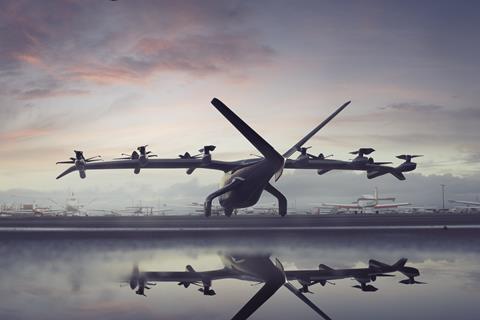 The company recently announced a pair of partnerships that will allow it to fly its air taxis in the the United Arab Emirates and India starting in 2026. Chief executive Adam Goldstein describes Archer's deal with India's InterGlobe Enterprises as a "mix of shared operations and selling planes".
The partnership will include aircraft operations, pilot training, and developing and financing vertiport infrastructure, as well as "plans to finance up to 200 of Archer's Midnight aircraft", Archer says.
It also recently disclosed a partnership with Beta Technologies that will see the companies work together on expanding electric aircraft charging infrastructure.
Archer and Beta have proposed a "unified charging standard", pointing to the Combined Charging Standard, which they describe as a "multi-modal, interoperable standard employed by the top OEMs" of electric vehicles.
Competitor Joby Aviation is pushing for the electric aviation sector to adopt the aircraft-charging system that it has developed, rather than the automotive-inspired standard favoured by Archer, Beta and others.
"We have been working on this with a broad group of other eVTOL companies for many months," Goldstein says. "The way we thought about it is, it's going to be really important for us to have an infrastructure system that works for all groups."
"I did take a quick look at what Joby had proposed," he adds. "From our first look at that, it looks to be essentially optimised for their particular aircraft and architecture. For something more generally useful and applicable, we're still very happy with our path."
Goldstein maintains that Midnight's performance will not suffer as a result of using charging systems borrowed from the automotive industry.
"The path we have chosen absolutely supports our turnaround time," he says.
Goldstein pointed to Midnight's recent first flight as a major milestone in the company's quest to launch and scale air taxi operations.
"On the engineering front, Archer has built and now flown what we believe to be the world's most advanced eVTOL," Goldstein says. "The Midnight aircraft, to our knowledge, is the largest all-electric VTOL in the world, weighing over 6,000lb – substantially larger than competitors' aircraft, which are closer to 4,000lb or less."
Midnight also has a wingspan greater than 15m (49ft). The company believes that such a large-scale aircraft is necessary to carry payloads exceeding 454kg (1,000lb).
"We believe that our competitors will eventually have to scale up to Midnight's size after several new design cycles in order to support a comparable payload," Goldstein says.
The company maintains it is still on pace to launch passenger operations in 2025, rolling out first in New York City through its partnership with United Airlines. The start-up is also planning for potential operations in Chicago, Miami, Dallas, Houston, Fort Worth, San Francisco and Los Angeles.
Archer's upcoming flight-test campaign will begin early next year and grow to eventually involve a fleet of six eVTOLs. The tests will start with remotely controlled operations and progress to piloted flights by mid-2024, the company says.