Silicon Valley-based Archer Aviation has teamed with automotive company Stellantis to produce its second prototype air taxi, Midnight.
Stellantis had previously been supporting development of Archer's electric vertical take-off and landing (eVTOL) aircraft, but the companies disclosed on 4 January that they "agreed to significantly expand their partnership" by producing Midnight together.
The long-term vision is for Stellantis to mass-produce Archer's aircraft as its exclusive contract manufacturer, and become a "cornerstone investor in Archer".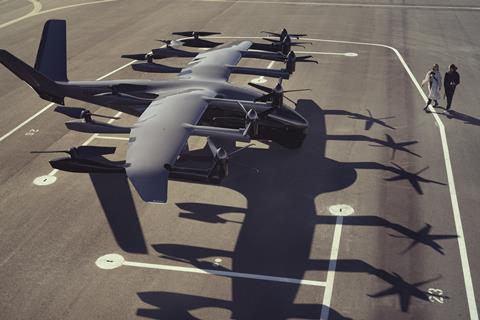 "Archer brings its world-class team of eVTOL, electric powertrain and certification experts, while Stellantis will contribute advanced manufacturing technology and expertise, experienced personnel and capital to the partnership," the air taxi company says.
Stellantis will provide up to $150 million in equity to Archer "for potential draw in 2023 and 2024, subject to achievement of certain business milestones", and plans to purchase Archer stock on the open market.
The deal "places Archer in a strong position to be first to market", Adam Goldstein, founder and chief executive of Archer, says of his company's ambitions of becoming the first advanced air mobility (AAM) start-up to achieve certification with the US Federal Aviation Administration.
"We've been working closely with Archer for the past two years, and I am continually impressed by their ingenuity and unwavering commitment to deliver," says Carlos Tavares, Stellantis' CEO. "Deepening our partnership with Archer as a strategic investor with plans for growing our shareholding demonstrates how Stellantis is pushing the boundaries to provide sustainable freedom of mobility, from the road to the sky."
With seating for four passengers and a pilot, Midnight is to have 12 wing-mounted rotors and a V-tail. The aircraft will be designed to take off vertically, with its six front rotors tilting from vertical to horizontal positions for forward flight.
Midnight's charging time of approximately 10min between flights will allow for quick back-to-back trips of less than about 17nm (32km), carrying payloads exceeding 450kg (1,000lb), the company says. Archer hopes it will fly for the first time in the first half of 2023 and achieve certification for commercial service by the end of 2024.
Archer first flew its two-seat demonstrator aircraft, Maker, in December 2021.
On 18 November 2022, Archer said it will build a 32,516sq m (350,000sq ft) manufacturing facility in Covington, Georgia, which is set for completion in the first half of 2024. That same year, Archer and Stellantis hope to begin manufacturing Midnight aircraft, Archer said on 5 January.
The company intends to initially produce up to 650 aircraft annually, but the facility could support up to 2,300 per year with a potential expansion.