Electric air taxi developer Archer Aviation is on the verge of attempting first flight of its production aircraft, "Midnight", at the company's test facility in Salinas, California, potentially marking a milestone in the aircraft's path to certification.
"Midnight will take flight this week or next week," Billy Nolen, Archer's chief safety officer, tells FlightGlobal on 19 July. "Within a matter of days, we will have it up and running… and then we look forward to doing our for-credit testing early next year."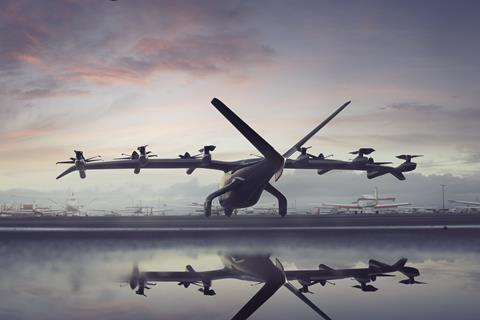 Midnight's maiden sortie will be closed to the media, Archer says. Details on the test flight's intended duration and route have not been released.
Archer has been conducting daily flight testing of its prototype, Maker, Nolen says. Next year, the start-up plans to operate six conforming aircraft on a daily basis in the California Bay Area.
"2024 is a huge year for us as an industry, because we're moving into the flight-test-for-credit [programme] with the Federal Aviation Administration," Adam Goldstein, Archer's founder and chief executive, said last month during the Paris air show. "So that means in Archer's case, you're going to see six-plus piloted conforming planes flying around Silicon Valley every day, multiple times a day, racking up thousands of flights over that year."
Designed for one pilot and four passengers, Midnight will have a range of up to 87nm (161km) but will be more optimally deployed on shorter flights between 17nm and 43nm, Archer says. The aircraft's charge time of 10-12min will enable quick turnarounds.
Nolen emphasised that the FAA laying out a path for the widespread operation of electric vertical take-off and landing (eVTOL) vehicles does not alter Archer's plan for achieving certification, entering service and scaling production.
"There was a lot of buzz yesterday about the FAA releasing their implementation plan about where we go [from here], and we are keen to assert that nothing has changed in terms of entering service in 2025 and moving to scale across the country by 2028."
Indeed, the company intends to achieve certification in 2024, fly passengers the following year and have "hundreds or thousands" of air taxis in service in time for the 2028 Summer Olympics in Los Angeles.
"We are marching through the certification pathway with all due diligence," says Nolen, who recently stepped aside as acting administrator of the FAA, joining Archer last month.
With the help of automotive giant Stellantis, Archer intends to produce 650 Midnight aircraft annually at an under-construction factory in Georgia. Over time, this could grow to 2,300 vehicles annually. Stellantis holds a strategic stake in Archer.
Competitor and fellow Bay Area start-up Joby Aviation recently unveiled its first production prototype air taxi, which is likely to become the first eVTOL delivered to customers. Joby is pursuing a similarly aggressive timeline for introducing a new class of aircraft into complex urban airspaces.
In late June, Joby said that the FAA has granted the aircraft a special airworthiness certificate, clearing the prototype to begin flight testing.
Editor's note: A previous version of this story stated that Midnight's test flight would take place in San Jose.