Palo Alto-based air taxi developer Archer Aviation has secured a $1 billion aircraft commitment from United Airlines and unveiled a plan to become a publicly traded company worth $3.8 billion.
Chicago-based United intends to buy up to 200 of Archer's in-development electric vertical take-off and landing (eVTOL) aircraft.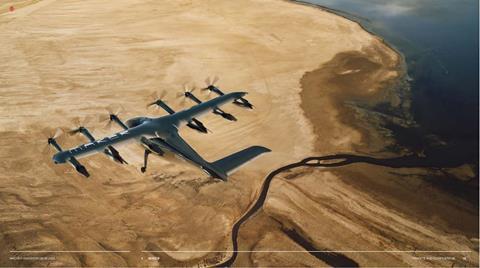 United's regional partner Mesa Airlines is also part of the deal, holding rights to 20% of United's purchases, say securities documents filed on 10 February by Archer partner Atlas Crest Investment .
United says that once the aircraft are in operation and have met its "operating and business requirements", it will acquire the aircraft. United's orders have an aggregate purchase price of $1 billion, and the airline has taken options for another $500 million in orders, say securities filings.
The aircraft "are expected to give customers a quick, economical and low-carbon way to get to United's hub airports and commute in dense urban environments within the next five years," United says.
Archer intends to "unveil" its aircraft in 2021, begin production in 2023 and start passenger flights in 2024, United adds.
Initial routes for Archer's still-unnamed eVTOL aircraft could include those from Los Angeles – a United hub – Dallas-Fort Worth and Orlando, Archer says.
The start-up calls United a "key equity holder and strategic partner", and says the 200-aircraft commitment "represents [the] largest eVTOL purchase in history".
United also signed a collaboration agreement with Archer.
"United will contribute its expertise in airspace management to assist Archer with the development of battery-powered short-haul aircraft," the airline says.
Scott Kirby, chief executive of the Star Alliance carrier, says: "Part of how United will combat global warming is by embracing emerging technologies that decarbonise air travel . With the right technology, we can curb the impact aircraft have on the planet, but we have to identify the next generation of companies who will make this a reality early and find ways to help them get off the ground."
United's move comes after the airline in December announced plans for a major investment in a direct air capture initiative, part of efforts to become carbon neutral by 2050.
Archer also today disclosed it has signed an agreement to become a publicly-traded company by merging with Atlas Crest, a so-called "blank-check" firm. Blank-check companies are a wildly popular means by which investors raise capital to fund promising start-ups. Atlas is backed by Ken Moelis, founder of investment bank and advisory firm Moelis & Company.
The merger will create a $3.8 billion company and raise $1.1 billion in proceeds, including $600 million in investments from companies including United Airlines, according to Archer and Atlas.
Archer came out of the shadows in May 2020 when it revealed an in-development four-passenger eVTOL with 52nm (96km) range and 130kt (241km/h) speed.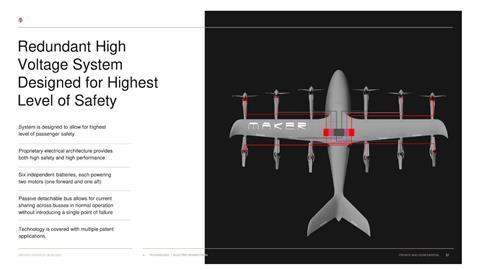 Archer's aircraft will have six batteries, each powering two motors, for a total of 12 motors, according to company documents. The motors will turn 12 propellers – six on the leading edge, which appear to be tiltable, and six on the trailing edge, enabling vertical take-offs.
Power will come from a 74kWh lithium-ion battery system. The aircraft will have a V-tail, a "high-aspect-ratio wing" and a carbonfibre airframe.
Archer says its design will ensure that no single failure "results in a complete loss of power to the vehicle". It estimates the aircraft will cost $3.30 per passenger-per mile to operate, comparable to Uber taxis.
The eVTOL initially will be piloted, but Archer intends to develop autonomous technology and to begin autonomous flights by 2028.
The company's timeline calls for opening a manufacturing site in 2022 and receiving a type certificate from the US Federal Aviation Administration by 2024. From 2024 to 2027, Archer intends to begin deliveries and ramp production to as many as 1,000 aircraft annually.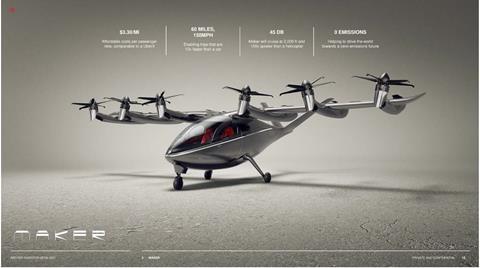 Archer's certification efforts are being led by Eric Wright, former senior director of certification with Piper Aircraft.
In January, news broke that Archer also partnered with Fiat Chrysler Automobiles. Under that deal, the auto-maker will assist Archer with access to a "low-cost supply chain, advanced composite manufacturing capabilities and engineering and design experience".
Archer was co-founded by Brett Adcock and Adam Goldstein, former New York financial executives who also founded a recruiting firm. Backers include former Walmart chief executive Marc Lore, who founded e-commerce retailer Jet.com.
"Through our all-electric aircraft, we are striving to curb carbon emissions, decrease traffic, and create the transportation networks of the future," says Archer's Goldstein.
His company has assembled a team of engineers and developers with respectable eVTOL backgrounds. Many employees formerly worked at air taxi developers including Boeing-backed Wisk, Airbus's Vahana demonstrator and Joby Aviation.