Salinas, California, a small town near the Pacific coast about 90min by car south of Silicon Valley, is best known as the inspiration for writer John Steinbeck, the place where Janis Joplin let Bobby McGee slip away, and where 30% of the world's lettuce is grown.
But in the middle of this agricultural heartland, a group of engineers has made Salinas centre-stage for cutting-edge aviation technology.
At the town's municipal airport, air taxi developer Archer Aviation is testing the aircraft with which it hopes to revolutionise air travel in the 21st century.
On a sunny and crisp November day, Archer showed off what dozens of designers and engineers have been working on for years, as 160 journalists, analysts and investors watched from a distance.
Maker, the company's two-seat prototype that first flew less than a year ago, is now ready for a live audience. As it rises from the apron, countless cell phones held overhead record video as engineers on the ground put the two-person electric vertical take-off and landing (eVTOL) aircraft through its paces.
"Maker is our demonstrator aircraft, and we used it as a certification test bed," chief executive Adam Goldstein tells FlightGlobal on 16 November. "We used Maker to validate a lot of the technology… The tilt propeller system, the aero model, the flight controls. And now it's kind of near the end of its campaign."
Archer's engineers are flying Maker almost daily, pushing the aicrcaft's envelope with every test sortie. It is scheduled to fly a full transition from hover to forward flight before the end of 2022 – and that's when Goldstein and his team know they will be ready to take the next step: building a new, bigger prototype called Midnight.
"Once we got confident in the technology and we got far enough along in the certification product, we started working on Midnight," he says.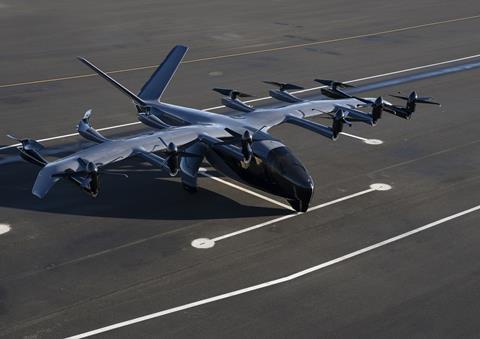 With seating for four passengers and a pilot, Midnight will have 12 wing-mounted rotors and a V-tail, similar to Maker. The aircraft will be designed to take off vertically, with its six front rotors tilting from vertical to horizontal positions as the aircraft transitions to forward flight.
Archer intends for Midnight to be optimised for operating back-to-back trips over distances of about 20mi (30km), with charging times of approximately 10min between flights, the company says. It will be able to carry payload exceeding 450kg (1,000lb). Its maiden flight is scheduled for the first half of 2023.
Midnight is the design that Archer hopes to certify for commercial service by the end of 2024. The airframer aims to be first to get the Federal Aviation Administration's blessing in this cutting-edge slice of the aviation market.
"From day one, Archer's strategy has always been about finding the most-efficient path to commercialising eVTOL aircraft," Goldstein says. "We believe our strategy and team's ability to execute on it has allowed us to establish our leadership position in the market, and is why we are confident we will be the first company to certify an eVTOL aircraft in the US with the FAA."
Certification is a multi-step process, and Archer has an aggressive timeline to complete them all. It is aiming to have its means of compliance accepted by the US regulator by the end of this year, with 18 subject-specific certification plans submitted to the FAA by the first half of 2023.
The FAA could approve those plans as early as the second half of next year, paving a path to type certification by the second half of 2024, according to Archer.
UNITED'S BET
Last year, United Airlines made a billion-dollar bet on the small aircraft, committing to purchase up to 200 of the type to augment its commercial air service. Archer and United announced earlier this month that their first air taxi route, set to launch in 2025, will connect Newark's Liberty International airport with Downtown Manhattan Heliport, located at the southern tip of Manhattan near the New York City's financial centre.
United and Archer are banking that passengers will be eager to get out of ground-based traffic snarls, streamlining their travel between airports and downtowns. But Goldstein sees other uses, and is focused on opportunities for Midnight to replace fossil-fuel-burning, noisy helicopters.
"Imagine going to Hawaii, and there's two different tour operators, and one gives you the chance to ride in a vehicle that's fully redundant with zero single points of failure, and the other one gives you a choice with 300 single points of failure," Goldstein says. "I think that presents a really interesting option."
Other users could include medevac-aircraft operators. Military uses have been discussed.
"Hospital systems use helicopters 70% of the time to move personnel around. So instead of blasting the neighbourhood with noise from a helicopter, you can do it in a really quiet way,"
"The way that the Air Force has looked at using these vehicles are similar to the way we would use them commercially, which is moving people around," Goldstein adds. Supply chain logistics, or rescue missions could also suit the vehicles.
But the price of this aviation revolution is high – and rewards distant. Goldstein estimates it will take between $500 million and $1 billion to shepherd an aircraft through the FAA's certification process.
And while dozens of companies are striving for a piece of the future advanced air mobility (AAM) cake, many will likely run out of cash before they get anywhere near a certifiable product.
Goldstein sees three more factors that will likely be integral for early eVTOL successes, which will whittle the group down even further. First, the design must be a fixed-wing aircraft, he believes.
"In order to compete [on] the missions that we are going to be flying, meaning 20-mile trips, but with rapid back-to-back missions, you need a wing in order to remain efficient. If you don't, you drain the whole battery, and then you have to sit on the ground charging."
Second, a focus on the urban air mobility market – meaning short downtown-to-airport trips, or flights within a large metropolitan area, dozens of times a day.
Finally, the aircraft must be piloted by a human. "If you want to get to market any time soon, you're going to have to put a pilot in these vehicles in order to get through the FAA," he says.
But what will it take to fly such vehicles? Goldstein says not much.
"These aircraft are very simple to fly. They obviously will take real training, but they're actually fairly easy to fly relatively short missions. And so it's a really nice spot for pilots to gain lots of hours on, [and] help refill the whole industry with pilots," he says. "There's a lot of excitement around that across the industry."
Technology and certification aside, widespread public acceptance is the X-factor that will make or break the industry.
"The best thing that we can do is make sure the aircraft are really, really safe and quiet," Goldstein says. "The good news is the FAA has very high standards and we will be certifying these vehicles at very high levels of safety."
"When you work with a partner like United, somebody pulls up to one of these vehicles, and there's the United logo on the side, I do think that helps increase consumer acceptance of these vehicles," he says. "It's not just Archer's helicopters, or something like that – it's United Airlines."
"When you see a logo like that, that logo typically makes people think about safety. So I do think the airlines can play a really big part of consumer acceptance as we get started," he adds. "That's one of the big reasons why we partnered with the United Airlines."
The company is speaking to other major commercial airlines, but hasn't ruled out an "Archer-branded airline".
As Maker winds down its test campaign in Salinas, Archer on 16 November unveiled a mock-up of Midnight at its headquarters in Palo Alto, the heart of Silicon Valley. Midnight has a futuristic design "combining high function and high emotion", and is much quieter than a helicopter, Archer says. The company has committed to sourcing renewable energy for the vehicle, and integrated sustainable materials, such as seat fabric made from recycled contents.
Those are just some details Goldstein sees as key to Archer's success in a market that could, according to Morgan Stanley, be worth up to $9 trillion through 2050.
"I think we can all agree it's going to be a big market," Goldstein says. "Now, it's all about closing that gap from moving this industry from this research and development phase, to the real commercialisation phase."