UK start-up Arcus Fire has joined forces with New Zealand firms Flight Structures and Pacific Aerospace to develop the F-45, a clean-sheet single-engined turboprop targeted at the firefighting, cargo and commuter airline markets.
The first prototype is now under construction with the trio aiming for first flight of the Pratt & Whitney Canada PT6-67F-powered F-45 in 2023. Deliveries are planned to start in 2024.
The partners are also creating the F-25, a firefighting version of Pacific's Super-Pac XL utility turbine-single. The F-25, is scheduled to secure its supplemental type certificate in 2021.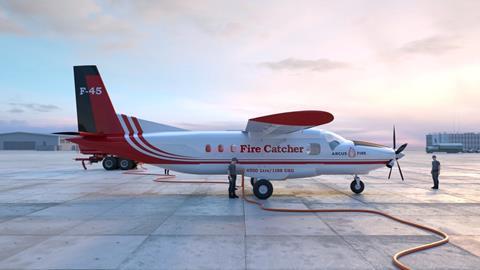 The first F-45 variant under development is an air tanker branded Firecatcher, which will be capable of carrying 4,500 litres (1,190 USgal) of water or fire retardant, says Arcus Fire founder and chief executive Nicholas Davis.
Arcus Fire is financing the programme.
Hamilton-based Flight Structures has designed the F-45 and, along wiith local airframer Pacific, will supply parts for the short-take-off-and-landing aircraft family. Pacific will also house final assembly.
"We will certificate the Firecatcher under the New Zealand civil aviation authority's restricted category, as the process is simple and quick and will enable us to begin delivering aircraft as soon as possible," Davis says.
The $4.2 million F-45 Firecatcher will fill a gap for a modern, versatile and cost-efficient air tanker competing against established out-of-production designs including Bombardier's CL-215 and Grumman's S-2AT.
The $2.2 million F-25 will be pitched against "long-in-the-tooth" types including the Polish-made PZL Dromader.
"Many firefighting aircraft in service today are around 30 years old, and we see an extensive replacement market of around 1,000 units worldwide for the F-45 over the next 10 to 15 years, with a particular focus on Asia, Australasia, Europe and the USA," says Davis. "The F-25 market will amount to around 100 units within five years."
David concedes that securing sales of both variants from governments and local providers in the current economic climate is proving challenging. Although operators do see "tremendous value in a modern, simple and versatile firefighting fleet, they are not seen as a spending priority at the moment", he says.
The F-45 prototype's fuselage has been built by Flight Structures and is now awaiting wings from Pacific. "The fire gate is now going through leak testing and [we] aim to launch flight testing in Hamilton in 2023," Davis says.
Conversion of the Super-Pac into a F-25 includes installation of a new hydraulics pack, fire gate and a 300kg (600lb) increase in payload, to 240kg. That work is now underway at Pacific's Hamilton airport base. Flight testing will begin shortly, and Davis hopes to secure a supplemental flight certificate by year end, he says.
PASSENGER, CARGO F-45s
The partners will pursue certification of cargo and passenger F-45 variants following validation of the Firecatcher, scheduled for 2024.
Dubbed an "oversized Cessna Caravan", the cargo version will have a large cargo door with a flat-floor cabin that can accommodate three LD-3 containers, with maximum payload of 2,500kg. The aircraft's operating cost will be 27 cents per 100lb of cargo per nautical mile, the company says.
The passenger model will seat 19 people a full stand-up cabin, says Davis.
"The F-45 is not going to win any prizes in a beauty contest, but operationally nothing will touch this aircraft," he adds.
The aircraft's cargo and passenger variants will cost $4.5 million each.
The F-45 is projected to have a maximum cruise speed of 190kt (350km/h) and range of 1,000nm (1,852km), which is "ideal" for short, regional hops lasting 45-90min, says Davis.
"It is very basic aircraft, simple to operate easy to maintain, and you will be able to land anywhere in the world to get [it] fixed," he adds.