Assets held by Aerion, the now-shuttered Nevada company that had been developing a supersonic business jet, are up for sale.
Development Specialists, a Chicago-based management and financial advisory company, has been hired to "manage the sale of the assets" held by Aerion and its related companies, Development Specialists says on 1 September.
The company has not set a sale price, saying, "The market will tell them what them assets are worth". It did not respond to additional questions about Aerion and its assets.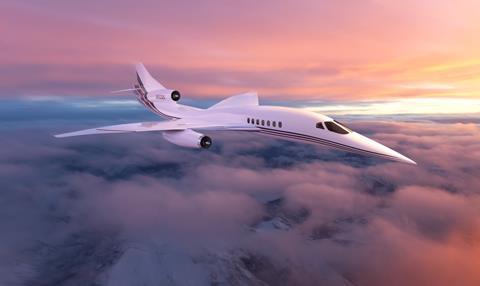 Aerion, which had been backed by Boeing, abruptly ceased operations in May, citing "the current financial environment". At the time, the company had been working with the state of Florida to build a "campus" in Melbourne, Florida, where Aerion intended to produce a jet called AS2 starting in 2023.
"We foresee a sale process that would be of great interest to companies in aerospace, aviation and US military defence, while maximising value for creditors," says Development Specialists' senior managing director Joseph Luzinski. "While the sales process is being implemented, we welcome expressions of interest from interested parties."
AS2 was to be an eight- to 10-passenger supersonic business jet powered by GE Aviation Affinity engines and with range of 4,200nm (7,780km) when travelling at Mach 1.4.
Aerion aimed to have AS2 flying in 2025 and in service in 2027.
The company had in 2019 secured an undisclosed investment from Boeing, which agreed to provide Aerion with flight-testing, financial, engineering and industrial support.
Aerion had been lauding its progress in the months ahead of its closure. It lined up partners such as Collins Aerospace, GE and Spirit AeroSystems.
In April 2020, Aerion announced a major deal with the state of Florida: a $300 million project to construct a production, research, design and maintenance facility in Melbourne, which was to become Aerion's headquarters.
In March, Aerion said US fractional aircraft ownership company NetJets acquired rights to purchase 20 AS2s and that the companies were exploring the potential for NetJets to become AS2's "exclusive business jet operator".
At the time, Aerion said it held $10 billion worth of AS2 orders. But those orders were likely fragile, as early orders for undeveloped jets typically involve minimal or no actual cash deposits, analysts have noted.
The cost of what Aerion was attempting to do – bring a new-technology, clean-sheet jet from concept to certification – are also enormous – as much as $4 billion, business aviation consultant Brian Foley has estimated.
The bulk of that expense comes due as the projects move closer to the "finish line", aerospace analyst Richard Aboulafia has noted.
In June, following Aerion's closure, Boeing chief executive David Calhoun said his team had lost confidence in the value of Boeing's Aerion investment. "We evaluated it year in and year out, and we got to a decision where… we didn't believe in it quite as much as we thought we could," Calhoun said.