US autonomous aircraft developer Astro Aerospace has signed an agreement to buy Horizon Aircraft, a Canadian company developing its own electric vertical take-off and landing (eVTOL) aircraft.
Astro does not disclose the acquisition price but says the deal will close in "on or before" the start of the start of the second quarter of 2021.
Based in Texas, Astro flew the first version of its electric autonomous passenger drone prototype, called "Elroy", in Canada in September 2018.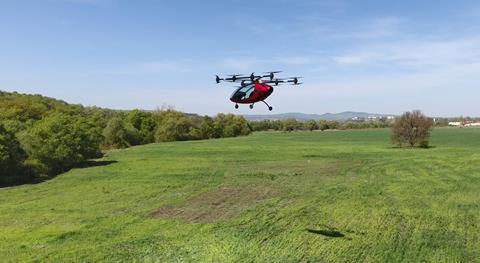 Astro expects to fly its second prototype by mid-year, the company says in securities documents.
Horizon, based in Ontario, has been developing "Cavorite X5", a "fan-in-wing" hybrid-electric aircraft intended to carry one pilot and four passengers. The aircraft will fly at 240kt (445km/h) and have 270nm (500km) range, Horizon says.
Images of Cavorite X5 show the aircraft to have a pusher prop and six fans embedded in each wing. It also has forward canards, with two fans embedded in each.
"Its patented fan-in-wing patent enables the Cavorite to be the world's first eVTOL that can fly the majority of its missions exactly like a normal aircraft," says Astro.
Astro is targeting several missions for its aircraft, including passenger and cargo transport, medevac, search and rescue, and military applications, it says.