US flight school network ATP has ordered 40 more Cessna Skyhawk single-engine trainer piston aircraft from Textron Aviation.
The Wichita-based manufacturer said on 30 June that the agreement is the second fleet purchase from ATP within a year, and that the aircraft are scheduled to be delivered in 2025. Last October, the company ordered 55 of the type, with deliveries of those beginning later this year.
"The Cessna Skyhawk has been the standard in aircraft training for over six decades," says Chris Crow, vice-president of Textron Aviation piston sales.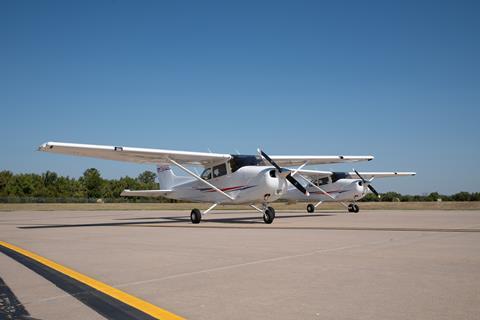 "With 95 Skyhawks on order, ATP is committed to providing students with unparalleled access to a modern and advanced fleet, so they can achieve their airline career goals on the fastest timeline possible," adds ATP's vice-president of marketing Michael Arnold. "ATP's nationwide fleet operates over a half million flight hours annually, with the oversight and support from ATP's safety, maintenance and flight-operations quality assurance teams."
ATP operates 200 Skyhawks already. The aircraft are based at the flight school's 82 US locations.
The Cessna Skyhawk is the trainer aircraft of choice for most initial pilot candidates. The high-wing aircraft has stable flight characteristics and is a dependable training platform for many flight schools. Textron says it has delivered "more than 45,000" Skyhawks to customers worldwide since 1955, more than any other aircraft in history.