Regional turboprop manufacturer ATR sees potential for annual production rates rising to up to 40-50 aircraft in the coming years as the market recovers, but cautions that any improvement will be slow.
Last year, ATR delivered only 10 aircraft as the coronavirus pandemic caused demand to nosedive. Although the airframer hopes to double that figure in 2021, "we see delivery rates recovering gradually", Fabrice Vautier, senior vice-president, commercial, said during a 15 March media roundtable.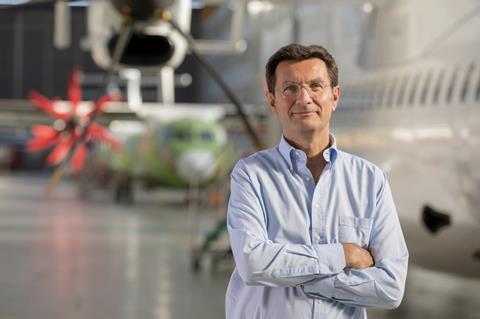 Shipments will be "consistently over 20 aircraft for the next couple of years", and could rise to "40-50 aircraft per year, as soon as the market recovers", he says.
Domestic and regional traffic should show the fastest improvement of any sector, says Vautier, who notes that around 85% of the ATR fleet is currently in service.
In addition, a coming replacement cycle should spur demand, he says: ATR forecasts that 900 turboprops in the 30-50-seat category are due for replacement in the next five to seven years.
Vautier sees additional growth from key markets such as India and Japan, and also China, where it expects to achieve certification for the ATR 42-600 and ATR 72-600 in the first half of 2021.
China will require 1,100 regional aircraft over the next 20 years, around 800 of which will be in the 30-seat category which could be addressed by a lower-capacity ATR 42-600, says Vautier.
Describing 2020 as a "very difficult year" during which "ATR reached its bottom", chief executive Stefano Bortoli says that difficulties remain.
"Air travel is still very restricted and will remain so well into this year. Airlines are still strapped for cash and many are struggling to survive."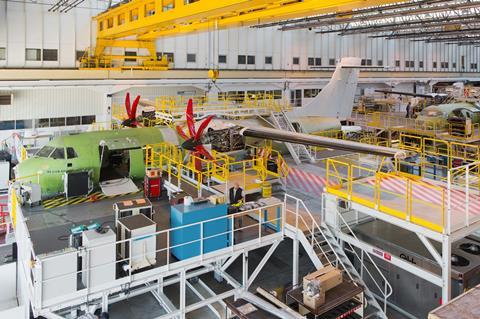 Nonetheless, ATR's "backlog is solid" he says, pointing out that just three cancellations were recorded last year, all from the same customer. Net orders also stood at three.
Joint shareholder Leonardo recently complained that a glut of used aircraft had flooded the market in 2020, hindering new sales.
Although Bortoli says it will "take a while" for this inventory overhang to fully clear, he sees the secondhand market as "vibrant", adding: "I'm confident that this wave in the next few months will be absorbed by the market."
Deliveries in 2020 included the first ATR 72-600F for FedEx, and this will be followed by seven examples this year, says Bortoli. US approval for the freighter was obtained earlier this year.
Work is also continuing on a short take-off and landing variant of the ATR 42-600. The certification timeline for this model is currently "under assessment", says Bortoli. Launching the variant in 2019, ATR said deliveries would begin in the second half of 2022.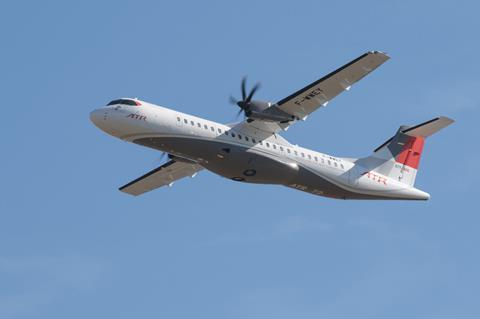 In addition, the airframer continues to work on incremental improvements for the twin-tubroprop family, says Stephane Viala, senior vice-president, engineering. These include avionics and other improvements designed to improve efficiency and cut maintenance costs, he says, such as a new system designed to analyse hard landings in order to reduce aircraft on ground situations.
C Check intervals will also shortly be extended from 5,000h to 8,000h, he adds.
While ATR continues to investigate ways of lowering the carbon emissions from its aircraft, Viala notes that disruptive technologies such as hydrogen power "are not yet mature" and will likely not arrive much before 2040.
Instead, the airframer is asking "what are the technologies that are mature enough to be onboard our aircraft in an incremental manner to bring these rapidly to our customers along this period."
Sustainable aviation fuels (SAFs) are seen as one possibility. ATRs can operate with a 50% SAF blend and the airframer will look to increase this percentage as supplies improve.
Airbus, ATR's other shareholder, has been a vocal champion of hydrogen, last year unveiling a design for a hydrogen-powered turboprop as part of its ZeroE initiative. However, Bortoli declines to say whether ATR will be brought into this effort. "It is a question that Airbus can answer," he says.