After a challenging 2020 in the Asia-Pacific, turboprop maker ATR stands by its perspective on the importance of regional connectivity.
As with all players in the aerospace and airline sector, ATR has felt the full brunt of the coronavirus pandemic, with border closures and a sharp reduction in air travel.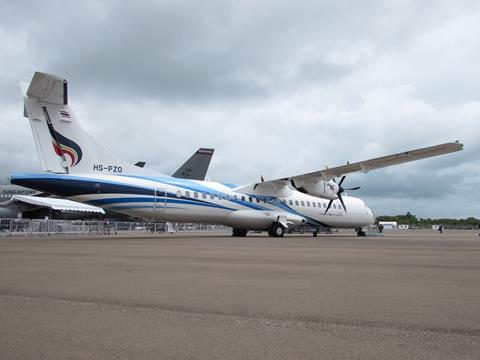 Nonetheless, the airframer was able to meet its delivery commitments to the Asia-Pacific last year, according to Jean Pierre Clercin, who took over as the company's head of commercial, Asia-Pacific in September 2020.
Travel restrictions made deliveries from Toulouse especially problematic. Normally customers dispatch pilots to collect new aircraft, but Covid-19 restrictions obliged ATR to fly aircraft to customers with French registrations. The company had to use its own pilots, and stops had to be negotiated with various countries along the way.
"We did manage to deliver all the aircraft we had scheduled for Asia last year," he says. "So it was actually quite an achievement in that sense…and we had to develop new ways to do that."
The changes in the delivery format required additional flexibility in areas such as registrations as well as when final payments were collected.
Clercin declined to cite specific delivery numbers in the region – 50% shareholder Leonardo will provide ATR delivery numbers in its upcoming results. Cirium fleets data suggests that ATR delivered just seven aircraft globally in 2020, of which three went to the Asia-Pacific.
Regional deliveries included a pair of ATR 72-600s to Taiwan's Mandarin Airlines, and a single ATR 72-600 to Air New Zealand. By contrast, Cirium shows that the airframer delivered 69 aircraft in 2019, of which 36 went to the Asia-Pacific.
Another challenge for ATR is the disastrous financial state of the region's airlines. Clercin says that this has led to some difficult conversations with customers, but that ultimately ATR recognises that it is one part of a broader ecosystem.
"At one point the discussion will be unpleasant, because you're going to have tension," says Clercin of some client discussions. "But we try to be accommodating, and I think our role is also to see how we can help the airline….and when it comes to deferrals, the customers taking deliveries in the short future are not necessarily the ones that have been most impacted."
Longer term, Clercin believes that there are significant opportunities in the region, notably connecting smaller communities in vast archipelagos such as Indonesia and the Philippines.
As for concerns remote working will hurt business travel, Clercin believes that it could, paradoxically, drive demand for regional aircraft – this is a trend ATR has already observed in the west. He cites the example of an executive working on the Thai island of Koh Samui, and flying to Bangkok periodically.
"There is a trend in the long term that people might [consume regional mobility] from a commuting perspective," he says.
Updated with Clercin's correct title.