Attorneys representing relatives of 737 Max crash victims are arguing in court that Boeing violated its 2021 settlement with the US government by pleading not guilty last week to fraud charges.
"Simply put, Boeing breached the plain terms of its agreement by pleading not guilty to defrauding the FAA," attorneys wrote in a 1 February filing with US District Court for the Northern District of Texas.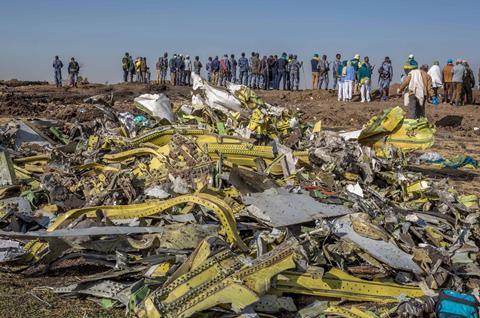 On 26 January, Boeing pleaded not guilty in court to charges that it defrauded the Federal Aviation Administration as part of the FAA's certification of the 737 Max, according to reports.
But in their 1 February filing, attorneys for relatives note that Boeing's 2021 settlement prohibits Boeing from "contradicting the acceptance of responsibility" for actions described in a "Statement of Facts" attached to the settlement.
The Statement of Facts – which Boeing signed off on as part of the settlement – says Boeing employees "deceived the FAA" about the 737 Max's Maneuvering Characteristics Augmentation System – which contributed to the crashes.
"Boeing stating it is 'not guilty' of conspiring to defraud the FAA directly contradicts the Statement of Facts stating that Boeing is guilty of conspiring to defraud the FAA," the attorneys write.
Paul Cassell, a lawyer representing relatives, could not be reached for comment. Boeing did not immediately respond to a request for comment.
Boeing's not-guilty plea came during an arraignment on 26 January. US federal judge Reed O'Connor had ordered the hearing despite Boeing still holding immunity from prosecution under its 2021 settlement. As part of that deal, Boeing agreed to pay $2.5 billion in penalties and in compensation to customers and to relatives of those killed in two 737 Max crashes.
Cassell has separately asked the court to strip Boeing of its immunity from criminal prosecution on grounds that the DOJ unlawfully failed to confer with victims' relatives before reaching the settlement with Boeing.
Judge O'Connor in October agreed that relatives were wrongfully shut out of discussions. The judge has not ruled on changing the immunity provisions.
The October 2018 crash of a Lion Air 737 Max 8 and March 2019 crash of an Ethiopian Airlines Max 8 killed a combined 346 people.