Attorneys for the former Boeing technical pilot indicted on fraud charges related to the 737 Max are again asking a federal judge to delay the trial.
They have also revealed evidence they say shows that Mark Forkner, who the US government charged with fraud, did not experience failure of the 737 Max's flight control software in a simulator, as has been alleged.
"In sum, the defence is drinking from a firehose," say Forkner's attorneys in a 5 November court filing.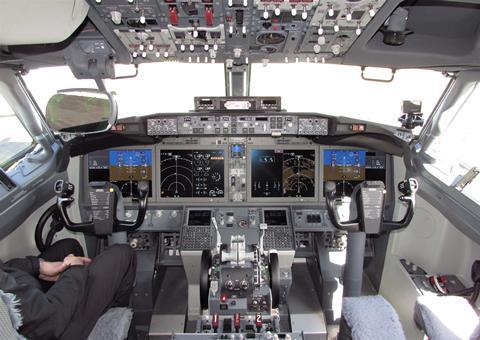 Federal judge Reed O'Connor already agreed to push back the trial by one month, to a 15 December start date.
But Forkner's attorneys have appealed again, saying they have far too little time to prepare.
In the 5 November filing, they ask the judge to delay the trial until the week of 28 March 2022. The judge has not yet filed a response to the request.
The defence team again cites the need to review databases containing some 67 million pages of documents related to the case, and to identify witnesses. Forkner's attorneys hope to have access to those documents on 15 November.
"We will narrow the results, organise them into important topics, identify and find witnesses, try to interview those witnesses, prepare direct examinations, and organise and prepare cross examinations of the government's witnesses," attorneys write. "These tasks cannot be done" in the time leading to the planned 15 December trial.
The DOJ charged Forkner with fraud, saying he deceived the Federal Aviation Administration about the 737 Max's Maneuvering Characteristics Augmentation System (MCAS). According to the government, Forkner discovered during a simulator session that the MCAS system operated at a slower speed than Boeing previously told the FAA.
The government alleges Forkner intentionally withheld that information from the regulator, resulting in the FAA leaving mention of MCAS out of a document that defines training for Max pilots.
"The defence believes, however, that Mr Forkner did not experience MCAS in the simulator that day but rather saw a malfunction or glitch where the simulator was not acting as the real plane would," his attorneys say in the 5 November filing.
Forkner's team found evidence supporting that claim within those millions of pages of documents. Specifically, they found notes saying Boeing's counsel had told the government, "There is reason to believe that what happened in the simulator was not MCAS acting as designed, but rather a simulator that was not acting as it was supposed to", the 5 November filing says.
Forkner's attorney's cited that example as reason why they need more time to review documents prior to trial.