UK airframer Britten-Norman (B-N) has secured the latest commitment for its revitalised Islander utility aircraft, with Australian charter operator Torres Strait Air signing a letter of intent to take 10 examples.
Announcing the deal on 30 August, B-N said it represents a $25 million, five-year fleet renewal activity for the Horn Island-based operator, which currently flies seven older examples of the twin-engined type. These "form the backbone of the local community and its economy, operating vital sub-regional air transport services across Torres Strait and Cape York Peninsula", it adds.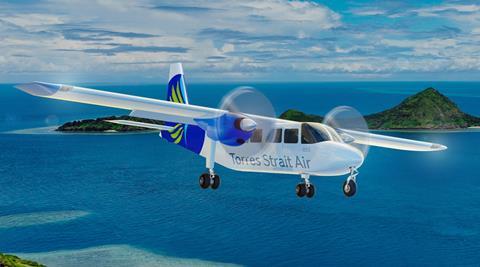 B-N notes that the agreement has been reached under its "Green Futures" scheme, through which customers of new-build aircraft will be able to trade them in for hydrogen-powered examples once that model becomes operational. This approach "will further enable the airline to operate responsibly in the region, driving a move towards net-zero [emissions] eco-tourism", B-N notes.
"Our commitment to this investment is for the people of Torres Strait and their future," says Daniel Takai, the operator's chief executive.
"The world is challenged with increasing sea levels. Our island communities, our people's homes, are at sea level, [so] every effort must be made to offset carbon emission," he notes. "We act now whilst continuing to provide the highest levels of aviation safety, comfort, efficiency, reliability and affordability to our people and those who come to our pristine waters and beautiful islands."
Cirium fleets data shows that Torres Strait Air's current BN-2 Islanders are between 13 and 49 years in age. The operator flies on-demand services to airstrips throughout the Torres Strait – which is located at the northernmost point of Australia – and to locations including Cairns, Queensland, and international services to Port Moresby in Papua New Guinea.
B-N says its repeat customer's aircraft will be among the first to be built on its recently established production and assembly line at Bembridge on the Isle of Wight. It has returned production of the type to the UK after decades of building examples in Romania.
Despite the airframe's decades-old design, B-N notes that all new-build examples are equipped with glass cockpit avionics, plus "all-window seating, enlarged baggage access… [and] a higher all-up mass [weight] than earlier variants".
Its latest orders success builds on a string of recent commitments, including with India's Spirit Air for six BN-2Ts, and Maltese start-up SJC Group, which will acquire up to three Islanders.
Teamed with Cranfield Aerospace Solutions – with which it is in the process of merging – B-N is adapting its Islander for zero-emission operations from later this decade. A first flight of a demonstrator aircraft equipped with a full hydrogen powertrain including an Evolito D1500 electric motor replacing its right-side engine is expected to occur from Cranfield, Bedfordshire in late 2024.

Craig Hoyle joined Flight International in 2003, and has edited the now monthly title since 2015. He has reported on the UK, European and international military aviation sector for more than 25 years, and produces our annual World Air Forces directory.
View full Profile