Air taxi developer AutoFlight has completed a long-distance flight of its newest demonstrator aircraft, a feat the company says proves the design's viability and aids its path toward certification.ard certification.
During a 23 February test flight in China, AutoFlight's Prosperity I electric vertical take-off and landing (eVTOL) aircraft covered a distance of 135nm (250km) on a single charge of its lithium-ion batteries, China-based AutoFlight says.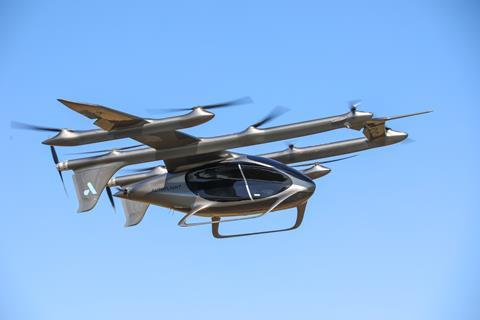 The company, which has US offices and a German design centre, calls the flight a "record", saying it bests a previous eVTOL distance title held by US competitor Joby Aviation.
"The flight is recognised as the longest fully electric aircraft flight in history, where the aircraft both takes off and lands vertically," AutoFlight says. "This long-range test flight is a key milestone in the development of the Prosperity I aircraft, as it undergoes continued testing towards the company's goal of airworthiness certification in 2025 with EASA."
The "Generation 4 model" of the Prosperity I demonstrator covered the 135nm by flying "20 circuits on a predefined track" while being piloted remotely from the ground, it says. The test occurred near Shanghai.
"It's a remarkable achievement that shows our aircraft's capability," says AutoFlight president Omer Bar-Yohay, adding that the aircraft landed with a "safety margin" of remaining battery power.
In July 2021, Joby completed what it called the "longest all-electric eVTOL flight" – a 134nm sortie lasting 1h 17min. Joby says it has flown its aircraft at speeds exceeding 174kt (322km/h) and higher than 10,000ft.
Whether other eVTOL developers have achieved similar distances remains unclear.
Bar-Yohay concedes AutoFlight's achievement was "very, very close to what Joby did". But he insists gaining the distance record was not the point of the exercise.
Rather, such long-distance flights prove at least some companies have managed to develop eVTOL aircraft capable of delivering the range air taxi operators will require.
"It says a lot about the market. It says a lot about the product itself," Bar-Yohay says. "There were a lot of sceptics about the battery.
"This proves that if you take the state-of-the-art of batteries today… you are going to have more than enough range to do real-life missions," he adds.
The eVTOL sector expects operators will deploy air taxis on short trips over cities, from airports to downtown areas and on occasional hops to the suburbs – routes far shorter than 135nm.
But having that range will enable operators to fly multiple short flights without needing to recharge at each stop – a requirement critical to the air taxi business model, Bar-Yohay says.
In its latest iteration the Prosperity I demonstrator has three pusher propellers and ten lifting rotors – two more than on a previous demonstrator – mounted on booms extending from its wings.
"We wanted to slightly overpower the lift… to allow for more failure modes and a smoother ride in hover," Bar-Yohay explains.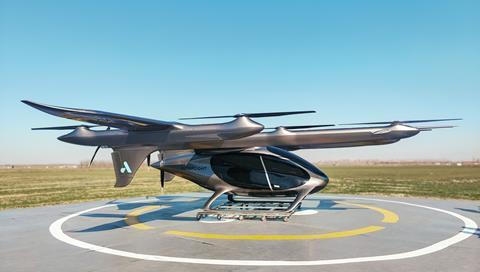 Video released by AutoFlight shows the fourth-generation demonstrator in flight, propelled by its pusher propellers with its rotors locked.
AutoFlight will likely shift to just two pusher propellers for its production-conforming aircraft – a configuration that actually provides more range, Bar-Yohay adds.
The demonstrator can fly at speeds exceeding 108kt. Power comes from a "lithium-ion pouch cell" battery that Bar-Yohay calls "very mature".
AutoFlight has not disclosed the battery's supplier and might adopt a different battery for its production aircraft. Each battery pack will allow for about 1,000 charge cycles before needing to be replaced, Bar-Yohay says.
AutoFlight intends to manufacture its air taxis in Germany, with components sourced from around the world. It is developing control software in-house. Bar-Yohay has said the aircraft will cost about $1 million each to purchase.
The company aims to have an eVTOL vehicle certificated in 2025 under the European Union Aviation Safety Agency's SC-VTOL category, but Bar-Yohay concedes that timing will depend on the regulator.
"Will it all conclude in 2025?… I don't know," Bar-Yohay says. "It's not all in our hands."
Following EASA approval, AutoFlight intends to seek certification from the US Federal Aviation Administration and from China's regulator.
"We are really on track, and iterating to a very, very good place," Bar-Yohay says. "The configuration works. It flies nicely. It flies far."