UK aerospace company BAE Systems will develop the fly-by-wire flight-control system for Aerion Supersonic's AS2 in-development high-speed business jet, adding another high-profile supplier to Aerion's roster of partners.
The news comes shortly after BAE executives laid out plans to develop new flight control systems for a new generation of aircraft.
Under a contract with Reno-based Aerion, BAE will design, develop and integrate the fly-by-wire system for AS2, an 8-10-passenger jet that Aerion hopes will achieve first flight in 2024 followed by service entry in 2026.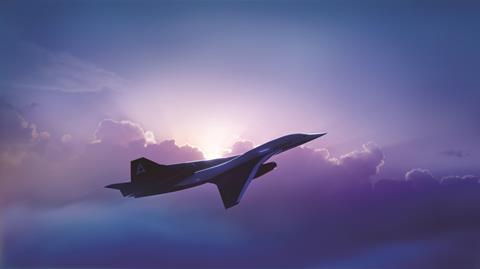 BAE's fly-by-wire system for AS2 will include "active inceptors, primary flight-control computers, actuator-control units and remote-electronics units."
The active inceptors will provide the jet's pilots "with static and dynamic tactile-force feedback", BAE says.
"Unlike a passive system, the active inceptor includes electronic-controlled actuators that send tactile feedback to the pilot through the flight stick," the company adds. "The feedback warns pilots of structural or aerodynamic operating limits – giving them improved situational awareness to maintain a safer, more-stable flight."
BAE brings to the project more than 40 years of developing fly-by-wire systems, having developed such systems for military jets in the 1970s. The company makes fly-by-wire controls for Boeing 777s and the in-development 777X.
BAE's control system for AS2 "builds on the company's proven core technology, but uses smaller and lighter components to allow for integration on the AS2 aircraft".
Aerion chief executive Tom Vice cites BAE's "extensive industry experience and innovative product portfolio" as factors leading his company to choose the supplier.
Aerion intends to begin manufacturing AS2 in Melbourne, Florida – which will also be its future headquarters – in 2023.
Triple 20,000lb-thrust-class (89 kN) GE Aviation Affinity engines will power AS2, which Aerion has said will have a 4,200nm (7,780km) range at Mach 1.4 and 5,400nm range at M0.95.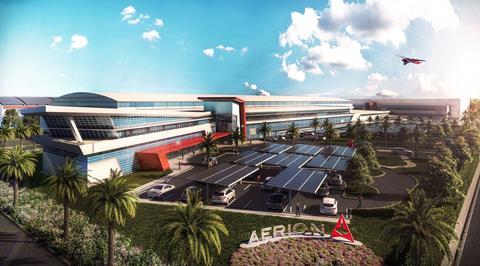 Aerion is designing AS2 to be quieter than traditional supersonic aircraft by leveraging a phenomenon called "Mach cut-off", which occurs when atmospheric conditions deflect booms up, not down. As a result, Vice has said AS2 will be able to fly at M1.2 without "any sound on the ground".
The company has lined up a host of major aerospace partners to contribute to AS2.
Collins Aerospace will develop flight-control actuation systems for the leading edge of AS2's wing, and for the aircraft's elevons, horizontal stabiliser and rudder.
GE will also make AS2's electric power systems, including technologies for generating, distributing, converting and storing power.
UK aerospace company GKN will design the jet's empennage and electric wiring and interconnection systems, Safran Landing Systems will design AS2's wheels, brakes and gear, and Safran Nacelles will make its engine inlets, fan cowl doors and thrust reversers.
Spanish company Aernnova will develop AS2's mid-fuselage section, and French supplier Potez will design its doors.
Additionally, Honeywell will supply AS2's avionics suite and connectivity technology.
Much of BAE's flight control development is led by the company's engineers in Endicott, New York.
BAE is also investing heavily in development of fly-by-wire systems for electric and hybrid-electric aircraft.