Autonomous aircraft company Xwing and helicopter maker Bell have completed test flights of a four-prop drone outfitted with "detect-and-avoid" (DAA) technology, demonstrating systems the companies say can enable future commercial unmanned flight.
The project involved flights using Bell's "Autonomous Pod Transport 70" (APT 70), a "tail-seater" drone capable of carrying 70lb (32kg) of payload and of flying at 100kt (185km/h), says Xwing chief technology officer Maxime Gariel.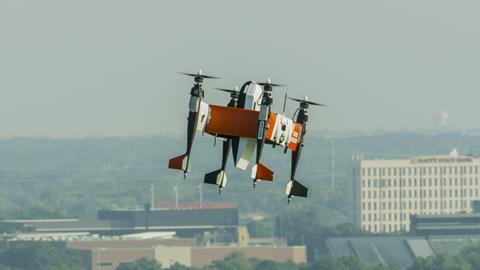 The demonstrator carried San Francisco-based Xwing's DAA system, which uses radar, cameras and an Automatic Dependent Surveillance-Broadcast (ADS-B) system to identify other aircraft in flight.
Installed in the front of the APT 70, the system sends information to a ground control station, allowing an operator there to avoid other aircraft, Gariel says.
"We are very excited about the opportunity to change how people and goods move around the US and around the world," Gariel adds. He envisions autonomous aircraft eventually flying to airports in small communities that have long lacked air service.
Bell and Xwing have also integrated the DAA technology into a Cessna 208B Grand Caravan and a Bell helicopter. Xwing's goal is to achieve certification to use the system to conduct unmanned Caravan cargo flights.
The APT 70 flight tests were part of a two-year Bell-Xwing partnership with NASA's "Unmanned Aircraft Systems Integration into the National Airspace System" project. That partnership is now complete.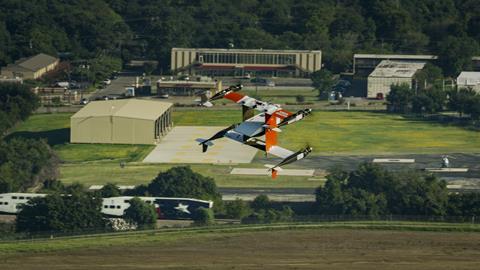 "The technology provides situational awareness for the ground pilot or can be coupled with the flight-control system for automated avoidance," the companies say. "This enables unmanned vehicles to fly without ground observers by paving the way for beyond-visual line-of-sight flight."
The APT 70 flights occurred near Dallas, and the aircraft passed through "Class B" controlled airspace, which generally surrounds busy airports and extends from the ground to 10,000ft altitude.
The flights were the first authorised operations of an unnamed air vehicle (UAV) in controlled airspace, the companies say.
In addition to the DAA system, Xwing has developed autonomous flight-control technology, and in August revealed it had conducted autonomously-controlled flights using a Grand Caravan.
Through that effort, Xwing has logged more than 100 flight hours and more than 80 automated take-offs and landings.
"It's not just about making it take-off or land [autonomously], it's also about identifying other airplanes," says Maxime Gariel, chief technology officer of four-year-old Xwing.
Now, the company is working toward achieving FAA supplemental type certification for the DAA system integrated into a Grand Caravan. It plans by year-end to begin Caravan flights with the technology for the purpose of collecting data needed for eventual certification of autonomous cargo flights.
"Once we have this detect-and-avoid system certificated, then we can really have autonomous airplanes fly," says Gariel. "It's the enabler."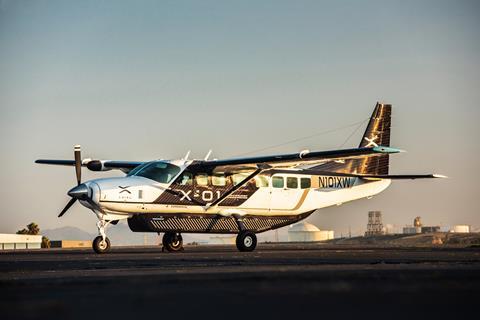 Xwing's DAA technology is "agnostic", meaning it can be adapted to work on other aircraft types, enabling broader unmanned aircraft operations, Gariel adds.
In May, Xwing landed $10 million in funding via an investment deal led by R7 Partners and with contributions from Thales and investment companies Alven and Eniac Ventures. Xwing has about 20 staffers, including experts in flight-control systems and software engineering, Gariel says.