If confirmed, President Joe Biden's nominee to head the US Department of Transportation (DOT) intends to quickly take steps to strengthen the Federal Aviation Administration's oversight of aircraft certification.
Nominee Pete Buttigieg pledges to improve the FAA's certification function during a 21 January confirmation hearing. He also committs broad support to the struggling US aerospace manufacturing sector.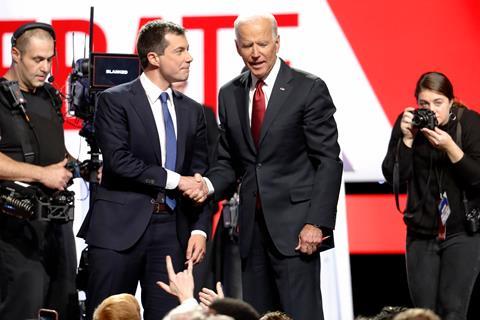 During the hearing, Maria Cantwell, a senator for Washington state, asked Buttigieg if he intended to "make the safety reforms at the FAA a priority".
"I'm committed to doing so," Buttigieg responds. "We need to make sure that engineers and the FAA are in the driver's seat when it comes to safety."
"We will be working right away to implement the legislation that you've advanced, in regard to ensuring that we have every confidence in safety at the FAA," Buttigieg adds.
He also says he will shuffle the staffing at the FAA, which sits under the DOT. Buttigieg is expected to be confirmed to the DOT post.
Cantwell was asking Buttigieg about a late 2020 law that seeks to strengthen the FAA's oversight of certification. The law aims to prevent circumstances that preceded crashes of two Boeing 737 Max that killed 346 people.
Supported by Cantwell, the law requires the FAA to review its Organization Designation Authorization (ODA) – the programme under which the FAA allows manufacturers to perform some aspects of product certification. Boeing's ODA office, and the FAA's oversight of Boeing, generated wide criticism amid the 20-month Max grounding that followed the crashes.
The law also requires the FAA to ensure manufacturers' ODA offices are capable of performing the required work, and, if not, pull their authorisations. The FAA must also take steps to ensure it has the technical staff needed to oversee the aerospace industry. Some critics have said the FAA has long lacked that required expertise.
Additionally, the law requires aerospace manufactures to disclose to the FAA "safety critical information" about their designs. And manufacturers must establish formal safety structures called "safety management systems".
Though the DOT is required to implement the measures, Buttigieg's comments reflected eagerness to advance the law's requirements.
During the hearing Buttigieg also expresses willingness, without providing details, to support the nation's struggling aerospace industry.
"It's important both economically and strategically for the country," Buttigieg says of the sector.