Boeing has sent one of its four 777-9 test jets to Clinton-Sherman airport in Oklahoma for a series of tests that will primarily examine the jet's performance on the runway.
Test aircraft designated "WH001" (registration N779XW) arrived at the airport in the western part of Oklahoma in recent days.
"We're in Oklahoma for testing with our new Boeing 777-9," Boeing says. "We're conducting a comprehensive series of tests and conditions, on the ground and in the air, to demonstrate the safety and reliability of the design."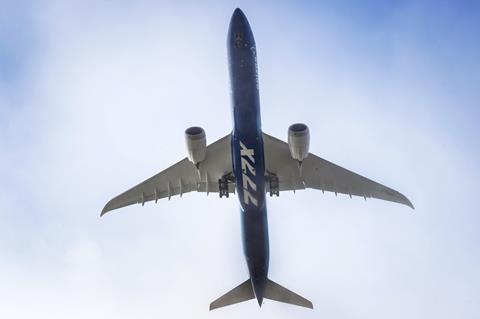 The company confirms to FlightGlobal that the jet will primarily complete runway-related tests at Clinton-Sherman. The airport's main runway is 2.6 miles (4.1km) long.
The aircraft will be at Clinton-Sherman until sometime in March, Boeing adds.
Boeing's flight-test programme for the GE Aviation GE9X-powered 777-9 began on 25 January 2020 when aircraft WH001 took off from Paine Field in Everett, Washington. At that time, Boeing had intended to begin 777-9 deliveries in 2021.
Since then, however, amid the Covid-19 pandemic, the global airline-sector downturn and the need for design modifications, Boeing has delayed its planned first 777-9 delivery until "late 2023".
In January, Boeing chief executive David Calhoun said the company was "making prudent design modifications as necessary" to align with regulators' "expectations".
The changes involve actuator controls, Calhoun said.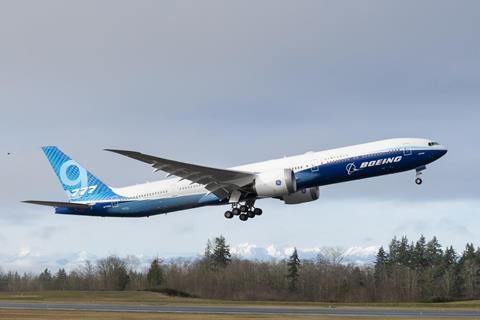 Aircraft WH001 has been assigned the work of completing tests related to avionics, brakes, flutter, ice, low-speed aerodynamics, stability and control, Boeing says.
The second test aircraft, WH002, took off for the first time on 30 April 2020. Boeing will use it to evaluate the auto-land system, ground effects and stability and control, Boeing says.
The company will use aircraft WH003 to test the auxiliary-power unit, avionics, flight loads and propulsion performance. WH003 flew for the first time on 2 August 2020.
Test jet WH004, which completed its maiden flight on 20 September 2020, will be used to evaluate "extended operations", the environmental control system, functionality, reliability and noise, Boeing says.