After a five-month hiatus, Boeing has resumed 787 deliveries, handing a 787-9 to United Airlines on 26 March.
The delivery marks a major step forward for the 787 programme, which has for nearly half a year been overshadowed by fuselage concerns that led Boeing to halt deliveries after October 2020.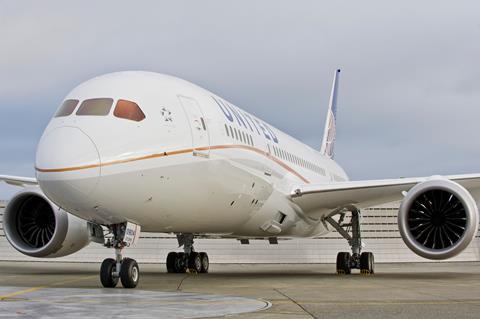 "We have resumed 787 deliveries following several months of engineering analysis and inspection work," Being says on 26 March.
Boeing has described the fuselage concern as a "skin-flatness" issue affecting the aft section of the jets', where fuselage sections join.
The company has been inspecting the jets to ensure fuselages meet required tolerances, a process that necessitated partial disassembly, in some cases, of the jets' interiors.
"Our commitment to safety and compliance led us to thoroughly examine many aspects of the programme to ensure we continue to deliver airplanes that meet all regulatory requirements and Boeing's highest quality standards," Boeing says.
The 787 delivery halt hit amid the pandemic and also as Boeing progressed with transferring all 787 production work to Charleston, South Carolina. The company this year will stop making 787s at its other, formerly primary 787 manufacturing facility in Everett, Washington.
The delivery pause caused Boeing to accumulate a stockpile of undelivered 787s, adding to a massive 400-plus stockpile of undelivered 737 Max.
Boeing's current inventory of undelivered 787s stands at more than 80, according to Cirium fleets analyzer.
The company resumed 737 Max deliveries in December 2020.
Earlier this month, the US Federal Aviation Administration said it was tightening oversight of the 787 programme by assuming responsibility for issuing airworthiness certificates for four specific jets.