Boeing has accepted responsibility in US federal court for the March 2019 crash of an Ethiopian Airlines Boeing 737 Max 8, and has agreed to compensate families of survivors.
The company's attorneys have signed a "stipulation" in which the airframer admits fault and agrees that numerous related lawsuits against it should move to the process of determining damages.
The crash of Ethiopian flight 302 killed 157 people. Families of victims filed numerous lawsuits against Boeing in US Federal Court for the Northern District of Illinois, accusing the company of negligence.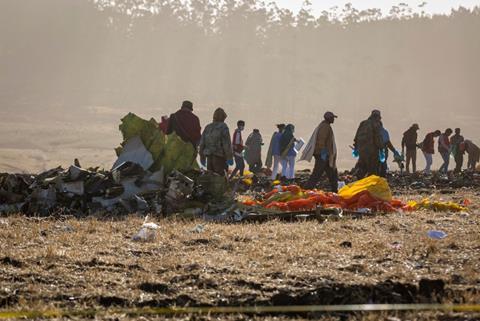 "Boeing Company admits that it accepts responsibility for the crash of Flight ET 302, which caused the deaths of all onboard the Boeing 737 Max," says the stipulation, filed with court on 10 November. "Boeing does not blame nor allege that any other person or entity was responsible."
All but two of the numerous families that sued Boeing over the Ethiopian crash agreed to the terms of the stipulation. Lawyers have asked the judge to approve the document.
The stipulation also specifies that Boeing "will not argue, in any individual trial for compensatory damages, that any other person or entity" was liable for the crash. It also will not "ascribe fault to" the captain or first officer.
Boeing did not respond to a request for comment.
Investigators have said Ethiopian flight 302 crashed after a faulty angle-of-attack indicator caused the jet's Maneuvering Characteristics Augmentation System to send it into a dive from which the pilots could not recover.
In the agreement filed 10 November, Boeing agrees the suit should move to determining monetary damages.
A jury, in deciding the amount of compensation Boeing should pay, will be instructed that "Boeing… has admitted that it produced an airplane that had an unsafe condition that was the proximate cause of" the crash of flight 302, the stipulation says.
That language marks a sharp contrast from statements made by Boeing shortly after the Ethiopian accident, which came several months after the crash of a Lion Air Max 8 in October 2018. Investigators likewise pinned faulty MCAS activation as a prime factor causing the Lion Air accident, which killed 189 people.
At a press conference in April 2019, Boeing's former chief executive Dennis Muilenburg defended the design of MCAS and stressed that pilots can follow procedures to counter errant MCAS activation.