Boeing aspires to split the narrowbody aircraft market evenly with Airbus after losing ground to the European airframer as a result of the nearly two-year grounding of its 737 Max.
"I want to split that market," Boeing chief executive David Calhoun says during the company's first-quarter earnings call on 28 April. "I can't make up for the production gap that we created for that entire year [of the aircraft's grounding]."
"I am not going to try to regain that ground, I simply am going to hold our ground," he adds.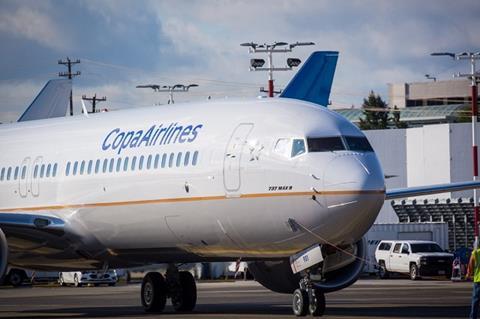 With the coronavirus recovery in air travel beginning in earnest, Boeing anticipates single-aisle aircraft will be in greater demand than twin aisles, as domestic US and shorter international routes are reinstated before long-haul international routes, the company says.
The Chicago-based airframer's 737 Max competes directly with Airbus' A320 family.
Aviation analysts have said the Max holds outsize importance for Boeing, both financially and competitively, and that its rebound is key to Boeing's recovery from the twin crises of the coronavirus pandemic and the beleaguered Max's forced pause.
Aviation's post-coronavirus trajectory will be uneven, leading in turn to a "bumpy" recovery for the airframer in the coming quarters, says chief executive Greg Smith during the call.
Boeing expects the rebound to occur in three phases: first, domestic travel, then short-haul international and, finally, long-haul international travel. As a result, narrowbody mid-range jets like the 737 Max will be in greater demand early on, with widebodies lagging.
The type was grounded for almost two years following two fatal crashes in 2018 and 2019 in Ethiopia and Indonesia. It was re-certificated by the Federal Aviation Administration in November 2020 and has since returned to passenger revenue service with 19 airlines globally.
While the Max was grounded, Toulouse-headquartered Airbus launched the A321XLR, a wildly popular 4,700nm (8,700km)-range jet with capabilities that no current or in-development Max variant can match.
Boeing also faces pressure from Airbus at the other end of the narrowbody market from the 110-130-seat A220. Designed specifically for that segment, the A220 economically outperforms the smallest 737 – the Max 7, analysts have said.