Though Boeing continues to report cancellations, the manufacturer padded its backlog in May with another 69 aircraft, including with 10 more 787s, reflecting an ongoing post-pandemic recovery.
Last month, the company also doubled the number of deliveries made compared with April, according to figures released on 13 June.
The new 787 orders included deals to sell eight -9s to unidentified customers and two -8s to Papua New Guinea's Air Niugini.
Boeing has had recent Dreamliner success, taking orders for 54 of the widebody jets this year, as airlines look to expand following the Covid-19 downturn.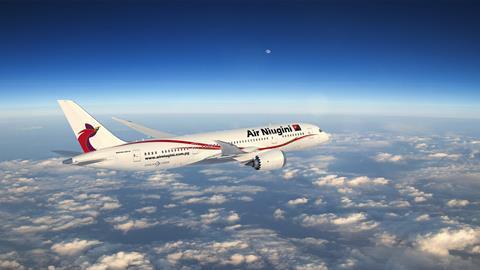 Rounding out the month were orders for 59 737 Max jets, though it declines to name the buyer or buyers.
A total of 11 cancellations, however, winnowed Boeing's May net order figure to 58 aircraft. Axed commitments included four 737 Max for Air Niugini, six 777-200 Freighters for Hong Kong International Aviation, and a single 777-300ER for an unidentified customer.
Meanwhile, Boeing succeeded last month in ramping its deliveries to 50 commercial jets, roughly double the 26 aircraft it delivered in April.
The company's May deliveries included 36 737s, among them one 737NG-based P-8 maritime patrol aircraft received by South Korea and 35 737 Max taken by various customers.
Southwest Airlines received the most Boeing jets last month – 11 737 Max – while United Airlines and Ryanair each received six examples.
Boeing's other deliveries in May included three 767-300Fs, three 777-200Fs and eight 787s.
The company also made accounting adjustments in May that added another 59 aircraft to its backlog. Those deals were not new, but Boeing had previously transferred them into an accounting bucket called "ASC-606", reserved for orders Boeing suspects will not actually close due to factors including customers' financial health. The May adjustments signify Boeing now views 59 more orders as solid.
Boeing closed May with 4,634 jets in its backlog – up 67 units from the end of April – comprising: 3,655 737s, 116 767s, 324 777s and 539 787s.