Boeing's chief executive is downplaying competitive threats that might arise should Airbus move forward with developing a larger variant of its A220 narrowbody jet.
Chief executive Dave Calhoun says Boeing is instead looking further forward, toward developing a future, highly efficient aircraft.
Airbus has for years floated the idea of further stretching the A220 into a new version widely called the A220-500.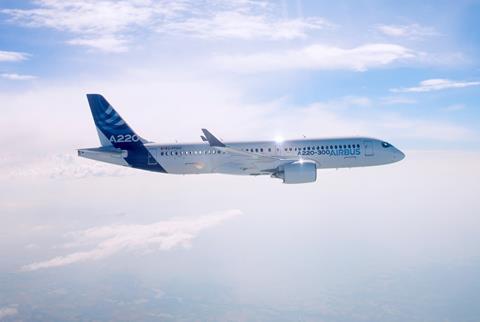 In June, Airbus CEO Guillaume Faury said such a jet, widely viewed as having up to about 170 seats, would give Airbus a "complete family" of aircraft at the lower end of its product range.
Airbus's two current in-production A220s, the A220-100 and A220-300, can carry about 135 and 160 passengers, respectively.
Though chatter about a possible forthcoming A220-500 launch has continued, Boeing CEO David Calhoun says he is not concerned.
"I really don't think about it. I don't view it as a meaningful competitor," Calhoun says during Boeing's second-quarter earnings call on 26 July. "There is nothing that I would want to do on the product-development front to respond to it. It's not the world that we're interested in."
He adds that Boeing is primarily focused on developing its next narrowbody jet – a 737 replacement that Calhoun expects will be 25-30% more efficient than existing models.
"The next airplane, in my view… has to [deliver] meaningful" efficiency, he says. "That's our game plan."
Calhoun notes Boeing is now developing a truss-braced-wing demonstrator aircraft with NASA. Calhoun thinks that design could "see service" as Boeing's next narrowbody if the company's efficiency expectations pan out.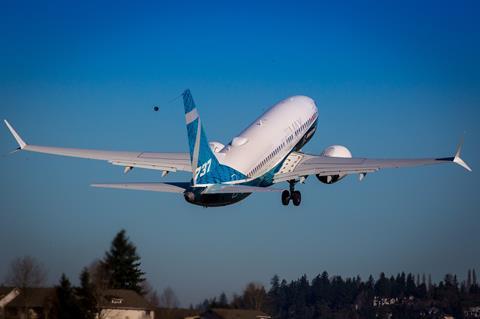 Boeing already competes in the smaller-end of the narrowbody segment with its 737 Max 7, which has range of 3,800nm (7,038km) and capability to carry up to 172 passengers.
But that jet is shortened variant of a larger aircraft (the Max 8), and therefore lacks the efficiency of jets specifically designed for that segment, such as A220s and Embraer E-Jets, analysts have said.
The 737 Max 7 does enjoy the benefit of having cockpit commonality with other Max models.
Boeing is working to achieve Federal Aviation Administration certification of the Max 7.