Boeing's chief executive thinks the company has a solid chance of securing an exemption for its 737 Max 10 from new certification regulations that are due to take effect in December.
But, if Boeing needs such an exemption but does not get it, the company faces a difficult road, says CEO David Calhoun.
At issue is a law that, starting in December, prohibits the Federal Aviation Administration from certificating aircraft lacking a modern "flight crew alerting system".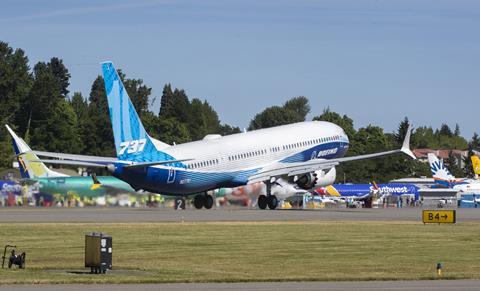 Such a system helps pilots properly prioritise and respond to aircraft warnings and alerts, and is viewed as especially useful in situations involving multiple system failures. While other modern jets have such systems, 737 Max do not.
Boeing aims to deliver its first 737 Max 10 in 2023, suggesting the jet's certification may not be completed before the December deadline.
In that case, Boeing would need an exemption to avoid needing to redesign the Max's cockpit alert system.
"I believe our chances are good with respect to legislative relief, and if we don't [get relief], it's a problem," Calhoun says on 27 April.
Boeing has also not achieved certification for its 737 Max 7 but expects to do so this year, presumably before the deadline.
The US Congress wrote the rule into a law passed in December 2020 that responded to two 737 Max crashes. Investigators suspect the jets' pilots may be been overwhelmed and confused by various cockpit errors.
Congress gave the industry two years – until December 2022 – to comply. At the time, two years seemed plenty for Boeing to bring its 737 Max 7 and Max 10 to certification.
"There was a lengthy window put in there, based on historic certification timetables, that would have provided for the 7 and 10 easily," Calhoun says. "The intent of that legislation was never to stop the derivative product line, with respect to the Max."
But the same two accidents that prompted the 2020 law also led the FAA to significantly heighten its regulatory oversight. As a result, Boeing and other airframers have delayed programme timelines to allow for more-intense certification reviews.
On 27 April, for instance, Boeing delayed its planned first 777-9 delivery from 2023 to 2025, citing "an updated assessment of the time required to meet certification requirements", Boeing said.
"It is definitely a more-rigorous process that we are all going through," Calhoun says of certification.
Also on 27 April, the chief executive of Gulfstream parent General Dynamics said Gulfstream's G700 certification might be delayed three to six months due to the FAA now requiring "a line-by-line examination of the plane's software".
The FAA has also not yet permitted Boeing to resume 787 deliveries – a full 18 months after Boeing first halted deliveries due to manufacturing quality issues.
Suddenly, two years does not seem enough for the 737 Max 10, which Boeing at one point aimed to begin delivering in 2020.
During the earnings call, Calhoun declined to say how Boeing will respond if faced with making costly and time-consuming cockpit changes to the 737 Max 10.