Boeing chief executive David Calhoun remains optimistic the Federal Aviation Administration will certificate the 737 Max 7 before year-end – and before a critical regulatory change.
He is less optimistic that the larger Max 10's clearance will come in time, however.
"I do. I do," Calhoun said on 15 September when asked if he thinks federal aviation regulators will green light the Max 7 before the end of 2022.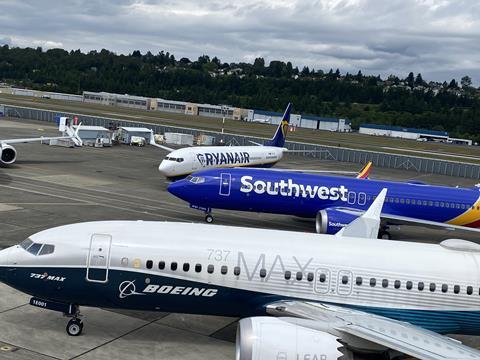 Boeing has been working to get both jets certificated before a regulatory change that will require newly certificated aircraft to have a modern cockpit warning system for pilots.
The requirement comes from a law signed by President Donald Trump on 27 December 2020. Under that law, starting two years after its enactment, the FAA cannot certificate transport aircraft that do not have a "flight crew alerting systems".
Boeing's 737 Max lacks that type of modern, centralised system, which displays and prioritises cockpit warnings, helping pilots work through issues.
Instead, the Max's cockpit alert system is essentially unchanged from previous-generation 737s. It involves two panels and lacks the same prioritisation function.
Boeing insists the legacy system is safe, and some safety experts agree, questioning whether introducing changes to a system well understood by pilots could introduce new risks.
Analysts and experts widely agree that equipping the Max with more-modern alerting technology would be enormously costly and time-consuming.
FAA acting administrator Billy Nolen declines to discuss any timeline for when the FAA might complete the Max 7's and 10's certifications.
"Our goal will be to make sure that we do all of our certification work safely, and the safety will always dictate our time," Nolen tells FlightGlobal on 15 September.
Boeing's Max 7 completed its first flight in March 2018, and the company hoped to have the type certificated by now. But the timeline slipped amid the Max 8 and Max 9 groundings, and heightened FAA scrutiny.
"This process is laborious. It's hard," Calhoun says of Boeing's Max 7 certification effort. "It's a big documentation effort."
However, he says the workload reflects "the process, as opposed to the product".
Calhoun is less optimistic about the 737 Max 10 getting certificated this year.
"There is a chance. There's also a chance that it doesn't," Calhoun says.
If the Max 10 is not cleared by when the new crew-alerting requirement takes effect, Boeing is "going to need some kind of extension", Calhoun says.
"That is not the course I prefer. But, if it's a course we have to take, we'll take it. And we will use the safety argument to win it," he adds.
Any such extension or exemption must come from the US Congress, the FAA's Nolen says. "The decision rests with Congress. Congress is the one that put that deadline in place."