Longtime Boeing chief financial officer Greg Smith, an executive who some observers had suspected might be the company's next chief executive, will retire from the airframer, effective 9 July.
Boeing announced Smith's pending departure on 20 April while also saying it had extended the company's mandatory retirement age for CEO David Calhoun from 65 to 70.
The change allows Calhoun, 64, to remain with the company until April 2028, though Boeing notes "there is no fixed term associated with" Calhoun's employment.
"Under Dave's strong leadership, Boeing has effectively navigated in the most challenging and complex periods in its long history," Boeing board chair Lawrence Kellner says on 20 April.
Kellner cites Calhoun's strengths as including his work at rebuilding regulators' and customers' confidence in Boeing.
"He has taken proactive actions to make sure Boeing remains strongly positioned," Kellner says. "The board has determined that it is in the best interests of the company and its stakeholders to allow… flexibility for him to continue in his role beyond the company's standard retirement age."
Smith, 54, became Boeing's CFO in 2011 and also holds the position of vice-president of enterprise operations. He has also worked in Boeing's commercial aircraft and defence businesses.
"Boeing is conducting a search for Mr. Smith's successor," Boeing says.
Calhoun says Smith has "driven Boeing to be a better and more-competitive company through his oversight of enterprise operations, sustainability, performance and strategy".
"He leaves a legacy of leadership and lasting impacts," Calhoun adds of Smith.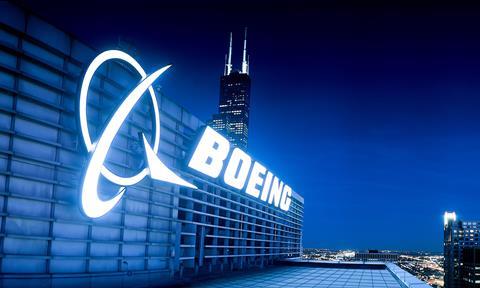 The long-term implications of the changes remain uncertain other than making clear the board no longer intends Smith to succeed Calhoun, notes Michel Merluzeau, aerospace analyst with consultancy AIR. Calhoun's tenure likewise remains unclear even though the board has broadened its options with the retirement age change.
Some analysts had suspected that the board had been grooming Smith to succeed Calhoun as CEO.
But Boeing's executive succession plan became increasingly unclear as the Boeing 737 Max crisis, and then the pandemic, unfolded. Boeing has also taken heat for not pulling the trigger on a new commercial jet called the New Mid-market Airplane.
Recent troubles revived criticism that financial considerations and financial executives (rather than engineering leaders) have had outsized influence on Boeing's strategy. As a result, some critics have said, Boeing's leadership team has been overly focused on achieving financial and stock market metrics.
Merluzeau describes Smith as a cautious and conservative finance chief. He views Smith's retirement as signaling that the board is taking a different approach, and that "more reshuffling could be coming".
"There is a different trajectory and a different direction that is [being taken] by the board… and by the shareholders," he says. "There is a need for a new approach and there is a need for… a redirecting of strategic objectives."