Aviation Capital Group has ordered 13 more Boeing 737 Max in a deal that brings the aircraft lessor's total outstanding 737 orders for 47.
The latest deal includes orders from Aviation Capital for seven 737 Max 8s and six of Boeing's yet-certificated 737 Max 10s, the largest member of the narrowbody aircraft family, Boeing says on 5 September.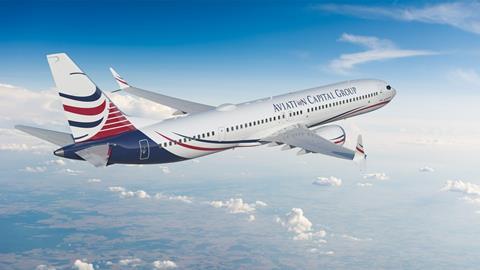 The US manufacturer says the order reflects "robust demand" for 737s, including for the Max 10, which has seen recent sales successes following a slow start.
A California-based subsidiary of Japanese multinational firm Tokyo Century, Aviation Capital had previously held orders for 34 737 Max, having last closed an order for 12 Max 8s in 2022.
Neither Boeing nor Aviation Capital says when the newly ordered jets are scheduled for delivery, though deliveries the lessor's other on-order 737s are scheduled to run between 2024 and 2028, Cirium shows.
Boeing is now working to secure the Federal Aviation Administration's certification for its Max 10, which is to carry 188-204 passengers in two classes and have 3,100nm (5,741km) of range.
The Max 10's certification timeline is already significantly delayed, and Boeing most recently said it aims to achieve the milestone in 2024.
The manufacturer now holds unfilled orders for 810 737 Max 10s, its data shows.
Aviation Capital's fleet now includes 71 737s, among them 11 737 Max 8s, four Max 9s, three 737-700s and 53 737-800s, according to Cirium fleets data. It also owns four Airbus A220s, 116 A320-family jets, two A350s, 11 757s and five 787s, Cirium shows.