Boeing is nearing the latest production rate increase for the 737 Max, taking output to 38 aircraft per month, although its priority is to first address a horizontal stabiliser problem affecting some of the narrowbodies.
"It's pretty soon," says Boeing Commercial Airplanes chief executive Stan Deal, although he declines to specify the date.
The next rise will bring output from 31 to 38 737 Max jets monthly, adds Deal, speaking in Paris on 18 June. "It's sooner rather than later."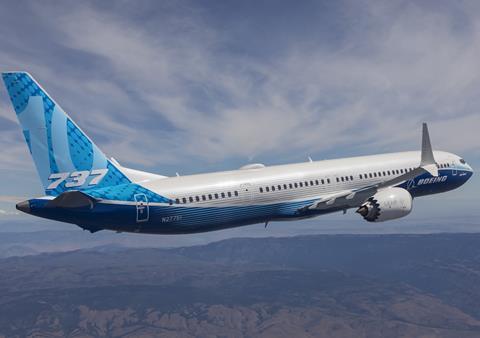 Boeing has in the last year been working to increase 737 output in the face of widespread production, supply and labour challenges.
Then earlier this year the airframer disclosed that horizontal stabiliser brackets on some jets were found to be defective, further complicating the programme and forcing the company to stop delivering some 737 Max 8s and 737NG-based maritime patrol aircraft. Deliveries of 737 Max 9s have continued, however.
The issue involves brackets supplied by Spirit AeroSystems and has required Boeing to perform rework on an unspecified number of jets. But the manufacturer stresses that the problem does not present a safety concern for in-service aircraft.
Boeing and Airbus have been seeking to ramp production in response to heightened demand for new narrowbodies. The US airframer hit the 31-per-month rate one year ago and says it remains on track to deliver 400-450 737s this year.
Last year, chief executive David Calhoun said engine shortages were the chief brake on higher rates of production.
But Deal now says supply chain "pinch points" are not specific to one part but rather "move around" and affect various components.
Boeing meanwhile aims to have its 737 Max 7 certificated this year, followed by its Max 10 in 2024.