Boeing confirms it is completing rework to structures surrounding aft passenger and cargo doors on some in-production 787s, a move that involves holding up some areas of 787 assembly.
The company has not stopped producing 787s but has adjusted the flow of work at some stations within its North Charleston, South Carolina 787 production site, says the company.
On 19 November, The Wall Street Journal reported that Boeing was "holding off completing" new 787s due to an issue with aircraft doors.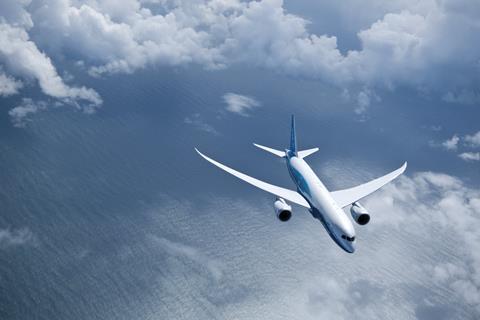 "Work continues in our production facility and rates will continue to be dynamic as we focus on eliminating travelled work and prioritise resources to support our inspection and rework efforts," the Chicago-based airframer says.
Issues with 787 doors have been cited in other news reports related to recent 787 production problems. Those problems, many of which involve the jets' fuselages, prompted Boeing's current 787 delivery pause, which began in May.
The door issue involves "aft body door surrounds", including those surrounding aft passenger and aft cargo doors, Boeing says. The problem does not affect flight safety, it adds.
The company has been working to develop an inspection method to identify whether door-surrounds meet engineering specifications.
That work continues, and could enable Boeing to inspect for the issue without removing aircraft structures.
Instead of waiting for the inspection process to be completed and verified, Boeing has decided to begin performing "door-surround" rework on components now in the assembly processes. The rework involves shimming, Boeing says.
That means assembly of affected components will be held up, and that Boeing will complete the rework before, not after, final assembly of the jets, it adds.
Boeing has not specified the impact of the work on its 787 production rate. In July, the company reduced that production from five to two jets monthly.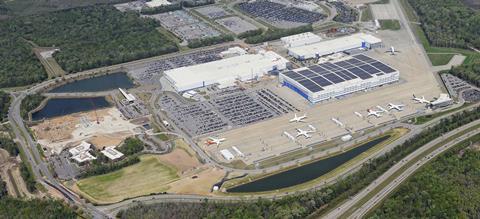 "We are completing comprehensive inspections and associated rework across 787 production and within the supply chain, while holding detailed, transparent discussions with the FAA, suppliers and our customers," Boeing says. "We are taking the time needed to ensure the highest levels of quality, and while these efforts will continue to impact deliveries, we're confident this is the right approach to drive stability and first-time quality across our operations."
Boeing halted 787 deliveries from October 2020 until March, then again in May. Deliveries remain on hold.
Circumstances leading to the first production halt cropped up in September 2020, when Boeing disclosed a fuselage "skin-flatness" issue related to gaps in aft-body fuselage sections of some 787s. The gaps did not meet engineering specifications.
In response, Boeing says, it initiated a broad review of 787 production, looking at other areas of the fuselage and asking suppliers to review their production for "non-conformities". Those evaluations identified issues that Boeing is now addressing. Boeing has repeatedly insisted the issues do not affect flight safety.
News of the door rework came the same day that top lawmakers on the US House Committee on Transportation and Infrastructure revealed they asked the US Department of Transportation's inspector general to evaluate the Federal Aviation Administration's oversight of the 787.