Boeing expects to deliver 100 fewer 737s in 2022 than previously planned due to supply shortages and a lack of aircraft deliveries to Chinese carriers.
The US airframer also now says delivery of more 737s from its inventory will slip into 2024.
"We now expect [737] deliveries to be closer to the low-400s for 2022, short of what we discussed earlier this year," Boeing chief financial officer Brian West says on 27 July.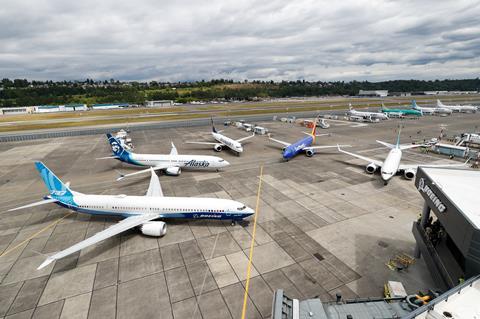 In January, West said Boeing expected to deliver about 500 737s this year. But the company's monthly delivery figures have been coming up short.
In the first half of 2022, Boeing handed over 189 737s, or about 32 monthly – "below our original expectations", West says.
Boeing has likewise been slow in clearing its inventory of stored 737 Max. The company produced but did not deliver about 450 of the jets amid the type's grounding, which US regulators lifted in late 2020.
Boeing still has 290 of those aircraft in its inventory, West says on 27 July. That is down only 45 units since January, when the inventory stood at 335.
"Given this uncertainty with our customers in China, we now expect more deliveries of airplanes from inventory to shift into 2024," West adds.
West had previously said Boeing would offload "most" of its stored 737s by the end of 2023.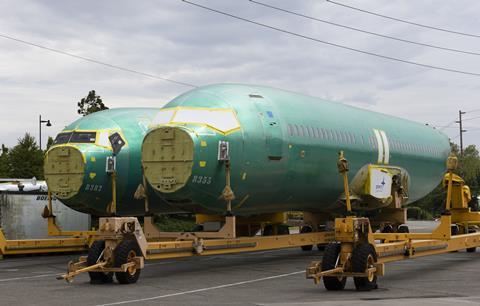 The delivery shortfall stems from several factors, but chief among them are Boeing's inability to delivery jets to China and the troubled state of the aerospace supply chain, executives say.
Chinese regulators effectively lifted the Max's grounding in December 2021 when they issued a directive laying out required modifications.
But Boeing has yet to resume Max deliveries to Chinese airlines, which hold orders for more than 200 of the jets, according to Cirium fleets data.
Exactly when those deliveries will resume remains unclear. Aerospace analysts largely suspect the Max's return to Chinese skies has been caught up in broader US-China geopolitical tension.
Boeing chief executive David Calhoun also says shortages of CFM International Leap-1B turbofans are slowing Boeing's 737 production and deliveries. He specifically calls out shortages of engine components called "structural castings".
"It is not yet resolved," Calhoun adds.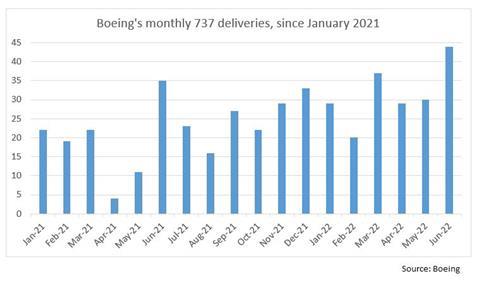 To hit its 400-aircraft-delivery goal, Boeing must hand over another 211 737s this year, or about 35 jets monthly.
Boeing anticipates its monthly deliveries through year-end will likely include 8-12 stored 737s, says West.
Boeing delivered an average of 32 737s monthly in the first half of 2022, including 44 jets in June. It also recently said it reached a goal of ramping 737 production to 31 jets monthly.
But executives caution against assuming Boeing can maintain such rates.
"Taking the June rate and extrapolating it – that would be a mistake," says West.
He adds that Boeing's 737 deliveries in July will likely be "light".