Boeing stripped 51 737 Max aircraft from its backlog in September and received no commercial aircraft orders in the month, partly reflecting the coronavirus pandemic's continued impact on new aircraft demand. In addition, the Chicago-headquartered airframer delivered 11 jets during the period.
Year to date, excluding deliveries, Boeing has removed 1,041 jets from its backlog, including 1,006 737 Max. It has received 67 orders for new aircraft this year.
The 51 Max deleted from the backlog include three cancellations: two from lessor BOC Aviation and one from an undisclosed customer.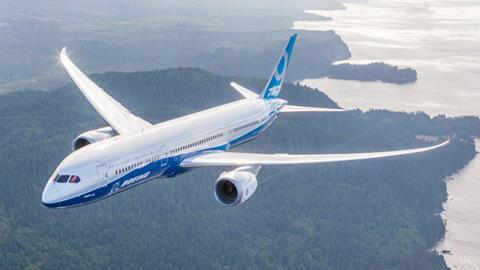 An additional 48 jets were removed to align with accounting standards. Although Boeing still holds firm contractual orders for those aircraft, it has less confidence the sales will close.
Boeing says backlog adjustments reflect the "unprecedented impact" of the coronavirus-led industry downturn. Related travel restrictions have both hampered demand for new jets and made delivering aircraft challenging, the company adds.
Boeing also says the cancellations will help maintain aircraft values and "provide Boeing with more flexibility to address the 737 Max-family backlog".
Cancellations enable the company to shuffle delivery schedules, helping ensure it can deliver Max jets as quickly as possible to other customers once regulators lift the type's grounding.
Lessors have accounted for an outsized share of Max cancellations this year, though Boeing notes it still holds orders for some 900 Max jets from the sector.
"We continue to work closely with our customers around the globe, understanding their near-term and longer-term fleet needs, aligning supply and demand while navigating the significant impact this global pandemic continues to have on our industry," says Boeing executive vice-president of enterprise operations and chief financial officer Greg Smith.
A decline on the 13 jets handed over in August, September's 11 deliveries comprised one 737NG – a military P-8 variant – one 747-8 Freighter, one 767F, one 777F, and seven 787s.
The 787s included six -9s – one to lessor AerCap, three to United Airlines, and a pair to Turkish Airlines – plus a single -10 to Eva Air. UPS took the one 747-8F, FedEx the 767F, and Lufthansa Cargo received the 777F.
September's Dreamliner deliveries marked a bump from previous months: Boeing delivered four 787s in August and just two in July. The company has been accumulated a stockpile of completed but undelivered 787s, with the figure standing at 44 jets on 1 October, according to Cirium fleets data.
Boeing's 787 delivery pace has also been impacted by required inspections, the company says. In September, Boeing said it had identified an issue related to shims in the type's vertical stabilisers.
In the year to date, Boeing has delivered 98 jets: 12 737s, two 747s, 20 767s, 15 777 and 49 787s.
September's changes bring Boeing's order backlog to 4,325 jets, down from 4,387 at the end of August. That includes 3,403 737s, 11 747s, 83 767s, 353 777s and 475 787s, data shows.
"We're taking actions to resize, reshape and transform our business to preserve liquidity, adapt to the new market reality and ensure that we deliver the highest standards of safety and quality," says Smith. Boeing is working to become "more resilient for the long term", he adds.
"Our diverse portfolio, including our government services, defence and space programmes, continues to provide some stability as we adapt and rebuild stronger for the other side of the pandemic," says Smith.