Boeing's chief executive is hopeful that China's Covid-19 lockdowns – not US-China political friction – is the reason why Chinese airlines are still not taking delivery of new 737 Max.
But he has no indication Chinese airlines are poised soon to start again receiving the Boeing narrowbody.
"I have not gotten a single signal – and I'm surprised by it – that they're going to take deliveries in the near term," CEO David Calhoun said on 26 October during Boeing's third-quarter earnings call. "It is really hard for me to find signals that things are going to change in China and move in our direction."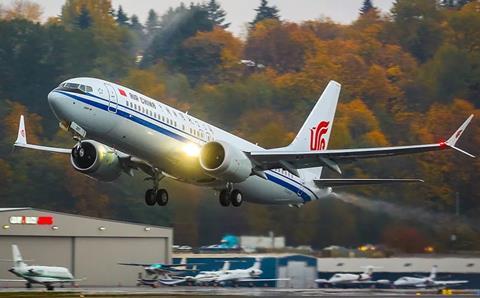 US-China friction is glaring following House speaker Nancy Pelosi's August visit to Taiwan and Chinese president Xi Jinping's recent reiteration that China intends to reclaim the island nation.
Boeing has repeatedly cut its 737 Max delivery forecasts, citing lack of deliveries to China. It cut the 2022 estimate again on 26 October.
"The Covid restrictions and policies in China have reduced demand for airplanes in general," Calhoun says. "We hope that is what is restricting the acceptance of… the airplanes."
Chinese airlines stopped accepting 737 Max after the second Max crash in March 2019 prompted the type's grounding. Western regulators lifted the grounding starting in late 2020. In December 2021 China issued an order seemingly clearing the Max to fly in that country, but Max deliveries to China remain halted.
That has left Boeing sitting on a glut of produced, but undelivered, 737 Max, for which has yet received full payment.
Boeing now has 138 Max for Chinese airlines in storage – roughly half its larger 270-strong Max inventory, Boeing chief financial officer Brian West said on 26 October.
Boeing accumulated an inventory during the grounding. Deliveries have been held up by factors also including order cancellations.
"We continue to explore options to remarket some of these airplanes," West says of the China-earmarked aircraft, but Calhoun clarifies he prefers finding some way to get the jets to Chinese customers.
The China problem is among factors keeping Boeing from achieving 737 Max delivery targets. In January, it anticipated delivering 500 737s this year; in July, West put the figure in the "low 400s".
On 26 October, Boeing revised the 2022 delivery estimate again, to 375, due to fewer-than-expected deliveries so far this year and ongoing supply troubles. "We are short of engines," Calhoun says.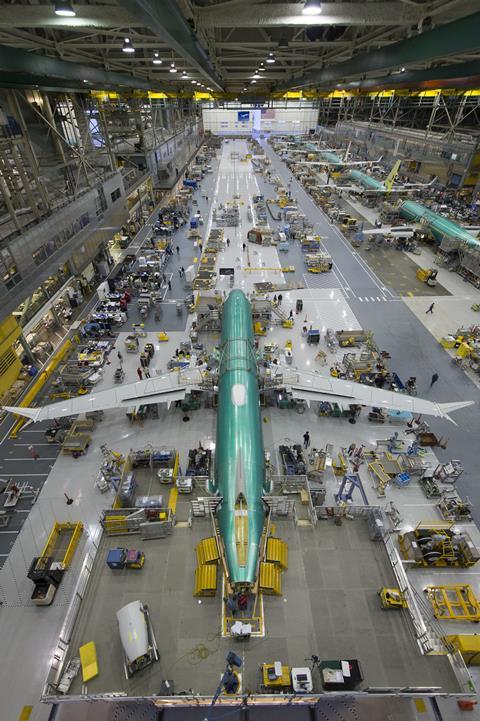 West says Boeing now expects to deliver most of the 270 stored Max by 2024, "with some moving into 2025". The company previously intended to clear most stored Max in 2023, with some lagging until 2024.
Boeing delivered 277 737s in 2022 through September (including 267 Max and 10 737NGs) – averaging 30 monthly, according to its figures.
"The monthly delivery trend is expected to remain in the low 30s into next year," West says, with eight to 10 of those coming from Boeing's undelivered inventory.
Boeing does not disclose production rates but has seemingly been unable to maintain its 31-monthly 737 goal.
Cirium data shows 63 737s completed first flights (a rough proxy for production) in the third quarter—23 monthly on average.
A source within Boeing says the company's 737 wing manufacturing line has been beset by work pauses and quality problems that have forced time-consuming rework. The source, who declines to be identified, says the problems stem partly from errors caused by new staff.
On 26 October, Calhoun says Boeing has hired 10,000 new workers this year, and is working to get them fully trained. "We are at a headcount level that we think can handle rate increases," he says.