Boeing has further delayed its 737 Max 10 programme by two years, with deliveries of the largest variant of its re-engined narrowbody now scheduled to begin in 2023.
The company also now expects to deliver the first 737 Max 7 – the smallest of the Max family – in 2021; that milestone was previously anticipated in 2020.
The Chicago-headquartered airframer disclosed the tweaked timelines in its latest annual report, made public on 1 February. Several days earlier, during Boeing's 27 January earnings call, the company said it had pushed back the first 777-9 delivery from 2021 to 2023.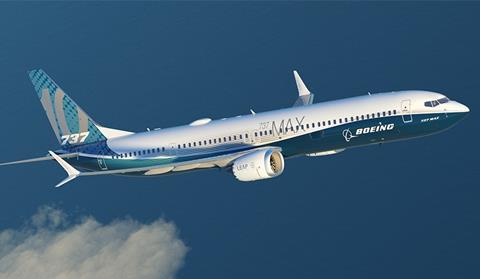 "We now anticipate that the first 737 Max 10 and 777X delivery will occur in 2023," Boeing's securities filing says. "This schedule reflects a number of factors, including an updated assessment of global certification requirements informed by continued discussions with regulators and resulting in a management decision to make modifications to the aircraft's design."
The company has disclosed it is modifying the 777-9 due to certification requirements but has not mentioned Max 10 design changes. However, a recent document from the European Union Aviation Safety Agency (EASA) says the Max 10 will receive an angle-of-attack (AoA) sensor "integrity enhancement" – essentially a means of reducing the risk from a failure of one of the two AoA sensors.
Boeing did not immediately respond to requests for more information.
Boeing has been relatively quiet about the Max 7 and 10 development schedules since the grounding of the Max 8 and 9 in March 2019. US regulators cleared those jets to fly in November 2020, with EASA following suit last month.
Previous annual reports placed 737 Max 10 deliveries as beginning in 2020. That deadline quietly slipped amid the Max and Covid-19 crisis of 2020.
The company rolled out the first Max 10 in November 2019. The jet's differences from its smaller siblings include longer landing gear, which ensures appropriate clearance between the rear fuselage and the ground during take-off rotation.
The main gear has a "semi-levered" design, which saved Boeing from making extensive changes to the Max's wheel wells. During rotation, the gear extends 241mm (9.5in). Once airborne, a steel compressing mechanism called a "shrink link" pulls the inner cylinder as the gear retracts.
The Max 10 is to carry up to 230 passengers and have 3,300nm (6,110km) range, according to Boeing's figures.
By comparison, Airbus's A321neo can carry up to 244 passengers and has range of 4,000nm (in the LR variant). Airbus is also developing the 4,700nm-range A321XLR.