Boeing has disclosed details about "structural enhancements" it has developed for 737NG nacelles to ensure nacelles maintain integrity in the event of fan blade failures.
The Chicago airframer revealed details about the changes, which respond to 2016 and 2018 in-flight failures of CFM International CFM56 engines, in regulatory documents released on 13 August.
Boeing's fixes include adding reinforcements, redesigning exhaust nozzles and equipping nacelle components with stronger bolts and fasteners.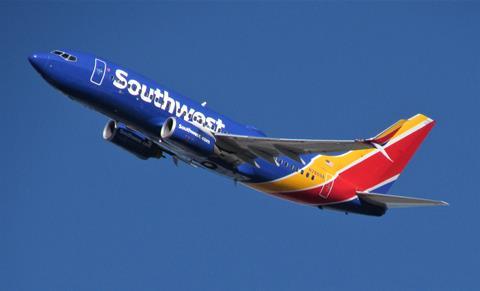 The company intends to detail those fixes in five service bulletins, which it hopes release between the second quarter of 2022 and the end of that year.
Boeing is also asking the US Department of Transportation for regulatory exemptions that would allow airlines to make the changes over time, rather than all at once.
Both the 2016 and 2018 events involved CFM56-7B fan blade failures on 737-700s operated by Southwest Airlines. The events were similar in that the blades, after failing, impacted the engines' surrounding structure, causing nacelle components to detach.
The 2018 event killed one passenger. She was sucked partway out a window that broke after being struck by part of the cowl. The Federal Aviation Administration has mandated fan-blade inspections to prevent such blade failures.
"The accident demonstrated the susceptibility of the fan cowl installed on Boeing 737 Next Generation series airplanes to a fan-blade-out impact," said the NTSB of the 2018 event.
In its 2019 report, the agency urged Boeing to make structural changes to help keep nacelles from coming apart.
The newly released regulatory documents provide details about those fixes, which would apply to 737-600s. -700s, –800s, -900s and -900ERs
They call for equipping nacelle inlets with "larger, more-capable fasteners", and redesigning "crushable spacers… [to] reduce the amount of fan-blade impact energy that will be transmitted into the inlet structure".
Boeing also redesigned the "radial restraint fitting, which connects the bottom of the fan cowl to the engine". That change will "prevent fan-blade impact energy from being introduced into the fan cowl structure during [a blade-out] event".
Additionally, Boeing will recommend "more-capable bolts" for securing a "fan-cowl hinge". It has also redesigned "the engine primary exhaust nozzle… to address potential nozzle departure".
Regulations require the company prove its redesign meets regulatory compliance at the "system level". That also would require airlines make all changes at once.
But Boeing is asking the FAA for exemptions. It wants the agency to certify each change separately, which would allow airlines to complete modification at different times.