Boeing is determined to win back market share in the Asia-Pacific, and feels it has the optimal product mix to do so.
Dave Schulte, managing director marketing at the US airframer, paints an upbeat picture of traffic demand in key Asia-Pacific regions. He says India's traffic demand is growing 7% annually, and while Southeast Asia's is not quite as high, it is still among the highest in the world.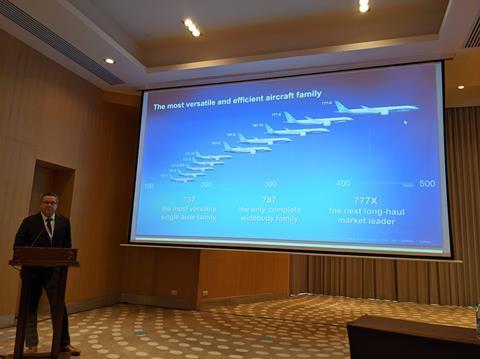 He adds that Southeast Asian aircraft demand will primarily be for single-aisles. According to the company's Commercial Market Outlook (CMO) for Southeast Asia, the region will require over 4,255 new aircraft over the next twenty years, with demand for narrowbodies to greatly outweigh that for widebodies.
For the next 20 years Boeing expects Southeast Asia to require 3,430 narrowbodies, 740 widebodies, 50 regional jets, and 35 freighters. It expects the region's fleet to triple by 2042, with 70% of deliveries for growth, not replacement.
Schulte disclosed Boeing's forecast in an interview with FlightGlobal at the Association of Asia Pacific Airlines 66th Assembly of Presidents, which is taking place in Bangkok from 10-11 November.
Boeing's Southeast Asia forecast is a subset of its global CMO, which foresees the world's airlines requiring 41,170 new aircraft over the next two decades.
Despite Boeing's optimism, in recent years it has lost Asia-Pacific market share to rival Airbus in the narrowbody segment.
Cirium fleets data indicates that Asia-Pacific airlines have 181 737 Max jets in their fleets, compared with 1,213 A320neo family jets. The A320neo family is also ahead in Asia-Pacific orders, with 2,233 against the 737 Max's 1,302.
A new aircraft from Boeing is also not in the offing: company chief executive Dave Calhoun recently indicated that the launch of a new narrowbody could be some time away.
Nonetheless, John Bruns, vice president commercial sales and marketing for India and Southeast Asia, states that the company is well positioned for the growing region.
"We're really happy with where we are with the product line," says Bruns. 'We've got a great product line from the 737 Max 7 all the way up to the 777-9."
He says the broader Boeing line up fulfils a vision the company set years ago.
"We've got this complete product line, and now we need to get out, and we have work to do in certain regions to improve our market share, and we're certainly going to work hard to win new customers."
He adds that the company will only launch a new aircraft when it feels the "time is right," and that the decision will ultimately involve a large number of factors, such as design, the production process, and certification.