Boeing is reviewing a newly disclosed 737 Max production issue to determine if the problem might keep it from meeting its 2023 delivery target.
The company on 23 August said a problem involving mis-drilled holes in 737 Max 8 aft-pressure bulkheads would impact its "near-term" deliveries.
Boeing stresses that the issue affects only some 737 Max 8s and does not impact Max 9s, and that it will continue delivering unaffected jets.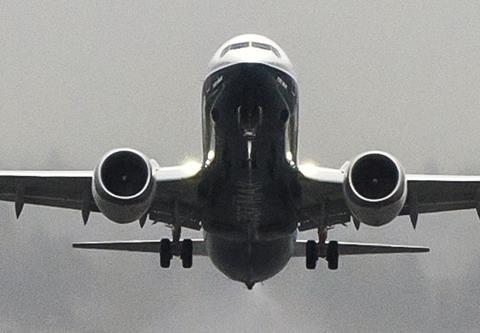 Still, Boeing is not specific about the potential longer-term fall-out from the problem – which involves fuselage sections supplied by Spirit AeroSystems – notably whether it will prevent the airframer from hitting its goal to deliver 400-450 737s this year.
"We are continuing to evaluate potential impacts to our full-year guidance," Boeing says.
The problem involves "fastener holes that did not conform to our specifications in the aft-pressure bulkhead on certain" 737s, Boeing said on 23 August.
"This issue will impact near-term 737 deliveries as we conduct inspections to determine the number of airplanes affected, and complete required rework on those airplanes."
Spirit says the defect involves "elongated" fasteners. It has implemented "changes to its manufacturing process to address this issue" and does not expect the problem to cause a "material impact to our delivery range for the year". Multiple companies supply the affected parts to Spirit, which is why not all airframes are affected, it adds.
Boeing declines to estimate how many aircraft – including those already flying – might be impacted, although it says the problem does not present "safety of flight" concerns.
Boeing's 737 delivery pace this year had already been disrupted, including by the June collapse of a train bridge used to transport fuselages from Spirit's Wichita production facility to the final assembly line in Renton, Washington.
And in April, Boeing disclosed having halted some 737 deliveries due to "non-conforming' fuselage components.
As of the end of July, Boeing had delivered 249 737s, including 243 737 Max and six 737NG-based P-8 maritime surveillance jets. It will need to deliver 30 to 40 737s each month through year-end to hit its 400-450 target.