A top Boeing executive has reiterated that the company will wait until next decade to bring a new single-aisle jetliner to market, saying Boeing needs that much time to mature technologies.
Speaking during a BofA Securities investor conference, chief financial officer Brian West says the company wants its next narrowbody aircraft to deliver "step-function-changing" efficiency improvements.
"Right now, anything on that front is next decade," West says.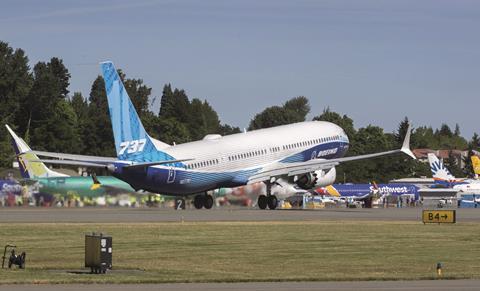 His comments address the question of what comes next for Boeing, which has been playing catch up to competitor Airbus following the 737 Max grounding and subsequent production issues affecting nearly its entire line of commercial aircraft.
Airbus has likewise struggled with production trouble due to parts shortages.
Several years ago, Boeing had been considering developing a 757 replacement dubbed the "New Mid-market Airplane".
That project has since stalled, and in November 2022 Boeing chief executive David Calhoun revealed Boeing does not intend to launch a new aircraft programme any time soon, saying, "I don't think we are even going to get to the drawing board this decade".
He said Boeing's next narrowbody jet must be 20-30% more efficient.
Calhoun's strategy drew criticism from some aerospace analysts, who insist delays will leave Boeing farther behind competitor Airbus, which has recently enjoyed enormous success selling A321neos. Analysts broadly view Boeing as lacking an aircraft that effectively competes against that Airbus jet.
Other industry watchers, however, have called Boeing's timeline prudent, saying launching a new aircraft too soon could erode 737 sales, on which the company's financial health rests.
On 22 March, West described the 737 Max as rebounding quickly from earlier troubles and said the jets are competing well against Airbus' A320neo-family.
"The Max is sold firm through 2026," says West, citing "very good demand" and mentioning recent larger orders from Delta Air Lines and United Airlines.
"That compete family – across the [Max] -7, -8, -9, -10 – holds its own," West adds.
Boeing still expects the Federal Aviation Administration to certificate the Max 7 this year and the Max 10 next year, adds West. "We are working hand-in-hand with the FAA to get this done."
At the end of February, Boeing held orders for 3,587 737 Max, according to the company.
West also insists Boeing is not "just standing still", noting the company hired some 10,000 engineers last year and has been developing its 777-9 and a 787-8 freighter.