Aerospace industry analysts suspect regulators will re-certificate the 737 Max later this year, but they stress that the company's challenges extend well beyond that programme.
"Virtually every one of Boeing's commercial aircraft programmes is in difficulty," says Ernest Arvai, president of aerospace analysis company AirInsight Group.
"Boeing is faced with a very, very critical few months… The margin for error is limited and the company remains vulnerable to another macro or geopolitical shock," adds Michel Merluzeau, director of aerospace and defence market analysis for consultancy AIR, and AirInsight affiliate.
Speaking during a webcast on 9 June, the analysts reviewed the concerns that Boeing faces. The webcast came the day after the Chicago-based airframer announced it delivered just four aircraft in May. They note that while some of Boeing's issues are unique, others are common to the industry, such as the sharp fall-off in new-aircraft demand due to the coronavirus downturn.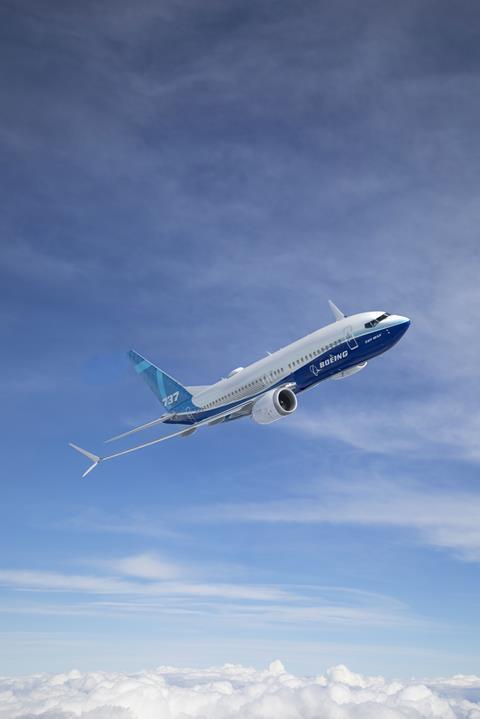 Amid the pandemic, both Airbus and Boeing have slashed production, and both countries' governments have stepped in with aid. Boeing received support indirectly through a nearly $60 billion US government aid package to US airlines. Also, the US government's purchase of billions in corporate bonds bolstered credit markets and preceded Boeing's May issuance of $25 billion in bonds.
Airbus, likewise, stands to benefit from a €15 billion ($17 billion) aerospace financial aid package recently unveiled by France's government.
But the coronavirus downturn has exacerbated issues and concerns specific to Boeing, such as those related to its grounded 737 Max and in-development 777X, analysts say.
Boeing has said it expects regulators will re-certificate the 737 Max, which has been grounded since March 2019, in time for deliveries to resume during the third quarter – a timeline analysts see as reasonable. Boeing also continues development and testing of three other Max models: the Max 7, high-capacity Max 8, and Max 10.
Financial services company Jefferies anticipates deliveries will start late in the third quarter. It predicts Boeing will deliver 155 Max before year end and 299 aircraft of all models in 2020, which would be down from 380 jets in 2019.
Boeing has noted that its few May deliveries – just four jets – reflect logistical challenges customers face due to travel and other restrictions amid the pandemic. And despite logging order cancellations in May, Boeing also took new orders for six 767 Freighters.
Merluzeau likewise expects Max deliveries will begin in the third, or possibly the fourth quarter.
AIRCRAFT OVERSUPPLY
But the analysts note that the Max's certification will add further aircraft supply to a market already saturated with unneeded jets.
As the pandemic eroded air travel demand this year, airlines grounded thousands of passenger aircraft. Some 15,500 of those aircraft are now in storage – about half the global fleet, Cirium data shows.
Once regulators re-certificate the Max, Boeing will be free to begin delivering the roughly 450 jets that it produced, but did not deliver, after the grounding. Additionally, airlines will be free, if they wish, to return to service the roughly 370 Max already in their fleets, Arvai notes.
That means "820 aircraft will hit [a] market that doesn't really have the demand right now… The timing of the Covid crisis couldn't be worse for Boeing", he says.
Additionally, in the last year, with its focus on returning the Max to service, Boeing first delayed and then shelved development of its New Mid-market Airplane (NMA), which was to replace 757s and 767s.
Boeing has "essentially ceded" that segment to Airbus, which stepped in by launching its incredibly popular A321LR and A321XLR, Arvai adds.
Those A321neo variants are the best-suited aircraft for mid-market flights, but Merluzeau thinks current market conditions create an opportunity for 737 Max 8s to compete in the mid-market segment.
Max 8s have 3,550nm (6,575km) range, according to Boeing, far less than the A321XLR's promised 4,700nm range.
But, amid the pandemic, aircraft have been flying aircraft with light passenger loads, a trend likely to continue amid any recovery, Merluzeau says.
In such an environment, airlines might be able limit the capacity of their Max 8s without turning passengers away, and in doing so extend the aircraft's range, Merluzeau says.
Boeing might also be able to equip Max 8s with additional fuel tanks like those found on 737-based Boeing Business Jets. Such changes might give Max 8s sufficient range to serve mid-market routes such as secondary transatlantic markets, Merluzeau says.
"The Max 8 has potential to address some routes of the A321neo," he says.
The analysts note that the pandemic downturn has also further deflated demand for large widebodies like Boeing's in-flight-testing 777X.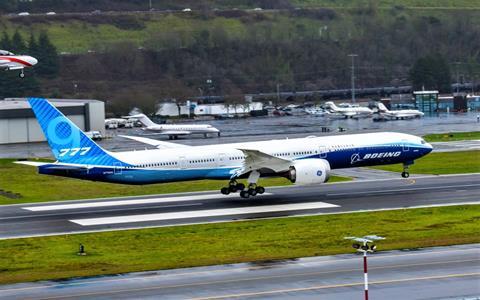 That jet might have been in service before the pandemic struck, though issues, including problems with its GE Aviation GE9X powerplants, pushed first deliveries to 2021, Boeing says.
"If it had been on time in the market, sales might have been better," says Arvai, adding that the 777-9 will hit a market "that no longer needs large aircraft for the near future".
Boeing holds unfilled orders for 309 777X, according to its website, and has expressed confidence that sales will build later this decade as currently in-service models near retirement.
Merluzeau agrees, saying more airlines will likely place 777X orders as the 2020s progress. The 777X programme's success, he adds, must be measured not in current orders but in the aircraft's sales potential over 30, even 40 years.