Boeing has now moved an MD-90 to the site in Palmdale, California where it plans to modify the former passenger jet into NASA's X-66A truss-braced-wing demonstrator aircraft.
The US manufacturer on 15 August flew the MD-90 from Victorville, California, where it had been stored and painted, to nearby Palmdale, a distance of only about 35nm (64km), Boeing said on 17 August.
Boeing is now gearing up to begin the process of equipping the airframe with the truss-braced wing.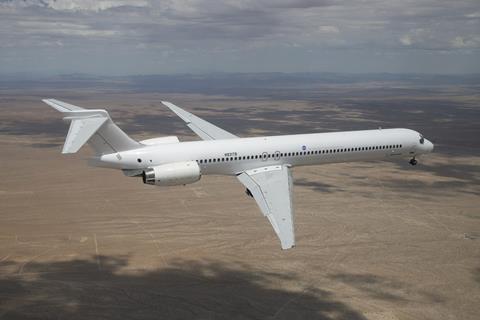 "Modification will begin soon, and ground and flight testing is expected to begin in 2028," Boeing says.
The X-66A is part of NASA's Sustainable Flight Demonstrator programme, an effort to study technologies that will improve aircraft efficiency.
Boeing plans to replace the MD-90's low, swept wing with a longer wing mounted atop its fuselage and supported by trusses – a configuration it calls the Transonic Truss-Braced Wing (TTBW).
The long, thin wing will generate less drag than that of a typical airliner, potentially allowing an aircraft equipped with a truss-braced wing to cut fuel consumption by 10%, according to NASA.
"This marks an important step in the Sustainable Flight Demonstrator project, advances Boeing's commitment to sustainability and brings us closer to testing and validating the TTBW design," says Boeing chief technology officer Todd Citron.
McDonnell Douglas, acquired by Boeing in 1997, delivered the MD-90 (N931TB) new in 1995 to China Northern Airlines, which sold it to Delta in 2011, Cirium data shows. Boeing then bought the aircraft in 2020.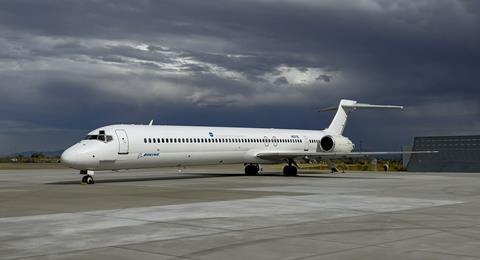 NASA and its partners plan to use the X-66A to evaluate the efficiency gains that truss-braced wings can deliver, building on previously completed windtunnel tests.
The X-66A will also be used to analyse other technologies to boost fuel efficiency, including engines able to operate at higher temperatures, and an open-rotor design being developed by CFM International under its Revolutionary Innovation for Sustainable Engines programme.
NASA estimates that truss-braced wings, engine advancements and other technologies could, when combined, reduce a narrowbody aircraft's fuel burn by 30%.
It hopes aircraft manufacturers will incorporate such technologies into their next narrowbody jets, helping the industry slash carbon output. Boeing and Airbus are widely expected to bring new single-aisle jets to market in the 2030s.
Boeing is using two MD-90s for the X-66A project but intends to only modify one into the demonstrator.
Earlier this summer, Boeing ferried the other MD-90 to Palmdale. While the company does not specify that aircraft's registration, Cirium data shows that a Boeing-owned example (N930TB) as located at the California airport.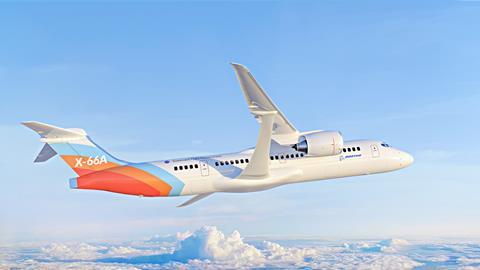 Boeing has for decades studied truss-braced wings. Although the longer wings generate less drag, they are not without challenges, notably a tendency to develop the dangerous condition of rapid vibrations and oscillations called flutter.
Several years ago, Boeing and NASA had thought a truss-braced-wing aircraft would fly at a speed of about Mach 0.745 – slower than today's narrowbody jets, which fly at M0.78 to M0.82, according to the agency.
But the partners then bumped up the concept's expected speed to M0.8. That change, disclosed by Boeing in 2019, followed completion of windtunnel tests and responded to the "desire by airlines, passengers and air traffic control" for more speed.
With the change, the partners started calling the design a "Transonic Truss-Braced Wing". That is because, when flying at roughly M0.8, some air can accelerate around an aircraft's airfoils to speeds meeting or exceeding M1.0, Boeing says. The transonic range is typically considered to be between roughly M.08 and M1.2.
"The flow can be very complex with local shock waves in areas where the local flow [over a wing] can accelerate to supersonic speeds even as the aircraft itself is not supersonic," the agency adds.