Boeing has halted its 777-9 flight-test programme due to a problem involving a flight-test aircraft's GE Aerospace GE9X turbofan, prompting engine evaluations by GE.
Both companies confirm the flight-test pause but provide few details about the problem, leaving the extent of the issue and its potential impact on the 777-9's certification timeline unclear.
GE says it discovered the problem, later found to involve temperatures, following a borescope inspection.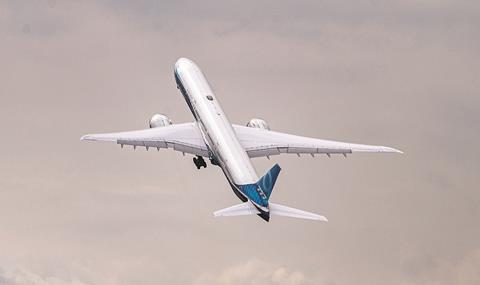 "GE is reviewing a technical issue that occurred during GE9X post-certification engineering testing, and we are closely coordinating with Boeing on our findings to support their return to flight testing," GE tells FlightGlobal on 30 November.
"GE and Boeing reviewed the issue, and out of an abundance of caution, Boeing has temporarily halted the 777X flight test programme," GE adds.
Boeing's 777-9 certification programme is already substantially delayed, with Boeing most recently – in April – pushing its expected first 777-9 delivery back two years, to 2025.
"We are supporting GE Aerospace as they assess a recent GE9X engine issue and will resume airplane testing once their thorough process and appropriate actions are complete," Boeing says. "Safety is our top priority, and our supplier and technical teams will take the time necessary to support the review as we work transparently with our customers and regulators."
Of the engine issue, GE says it discovered a "finding during a borescope inspection of a flight-test engine and decided with Boeing to remove the engine and send it to our test facility in Peebles, Ohio for engineering test runs".
"During these runs, a temperature alert was observed and the operator shut the engine down normally," the engine maker adds. "GE is coordinating next steps with Boeing to support the resumption of flight tests."
The Federal Aviation Administration declines to comment, referring questions to Boeing.
While GE declines to provide additional details about the issue, it says the problem affected its "highest-time" GE9X flight-test engine. That engine has logged more than 1,700h of run time and completed more than 2,600 flight cycles.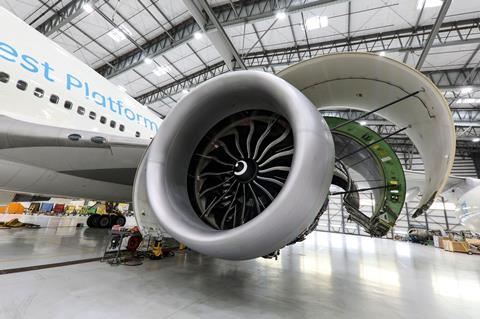 While the timing of the discovery remains unclear, flight-tracking website FlightAware.com shows that the last 777-9 flight occurred on 6 October and involved test aircraft with registration N779XW – the first of Boeing's four 777-9 test aircraft.
None of Boeing's three other 777-9s have recently been airborne. One flew last in August, one flew last in July and one completed its most-recent flight in November 2021, FlightAware.com shows.
Despite the issue, GE says GE9X development work remains ongoing. The company has been running a GE9X in Peebles in pursuit of an extended twin-engine operations certificate. That testing should conclude in early December, GE says.
The Federal Aviation Administration certificated the GE9X – rated to produce 105,000lb (467kN) of thrust – in September 2020.
A previously reported issue with the engine prompted Boeing to delay the 777-9's certification programme in 2019. That issue involved durability of stator vanes at the front end of the GE9X's high-pressure compressor.
The durability problem was causing exhaust-gas temperatures to be outside expected ranges, resulting in premature component deterioration, GE has said.