Boeing has completed "most" rework required for its undelivered 787s but is still addressing recently revealed problems involving titanium parts supplied by an Italian company.
Speaking on 27 October, Boeing chief executive David Calhoun describes the titanium part issue as among final hurdles the company must overcome before resuming deliveries of the widebody jets.
He declines to speculate when deliveries will restart or to predict how much time Boeing will need to clear its backlog of 105 stored 787s, saying the pace will depend on how badly airlines want the jets.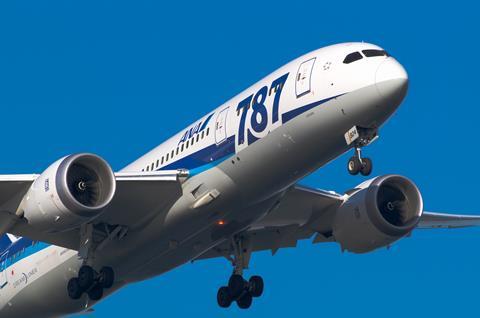 "Most of the rework… is in the rear-view mirror for us," says Calhoun, speaking during Boeing's third-quarter earnings call. "We have been doing rework nonstop for the last seven months. It's not a giant mountain ahead of us."
Calhoun adds that Boeing has completed "tip to tail" inspections of undelivered 787s but continues working through the titanium part problem.
"That was the one that… added some time to this," Calhoun says.
In mid-October, news broke that Boeing discovered titanium parts provided by a sub-supplier did not meet specifications. On 14 October, Boeing supplier Leonardo addressed the issue, which it attributed to one of its former suppliers, an Italian company called Manufacturing Processes Specification.
The parts were manufactured using an unapproved alloy, according to a person familiar with the issue. Some 300 787s have the parts, requiring Boeing to undertake a review to determine which need replacement.
"We have to track a particular material substitution… through every part and every supplier," Calhoun adds. "We have to make sure we are compliant with the material specifications that are included in our design."
Boeing is "well past halfway" to completing the process, says Calhoun. The parts pose "no immediate safety of flight concerns", and Boeing identified the issue through a "methodical approach" to quality, Calhoun adds.
CLEARING 787 INVENTORY
Boeing halted 787 deliveries from October 2020 until March, then again in May, to address gaps between fuselage sections that did not meet specifications. Another issue involving gaps in forward-pressure bulkheads surfaced in July. Deliveries remain paused.
In response, Boeing slowed 787 production this year to two jets monthly; it intends to return to a five-monthly rate after deliveries resume.
Halting deliveries has left Boeing with an inventory of 105 undelivered 787s. The company hopes to offload those quickly once deliveries resume, but the pace will depend on how quickly airlines want to take them.
"We will be as aggressive as we can in moving them out," Calhoun says, noting airlines tweaked fleet plans amid the pandemic. "They are going to take them when they want to take them. I can't jam [them] down anybody's throat."