Boeing has moved its global headquarters from Chicago to Arlington, Virginia, a major transition the company says will align it closer with customers and help it advance development of new technologies.
The relocation to Arlington, a suburb of Washington, DC, is effective immediately, Boeing says on 5 May.
As part of the change, Boeing also says it intends to open a new technology development facility in the Northern Virginia region.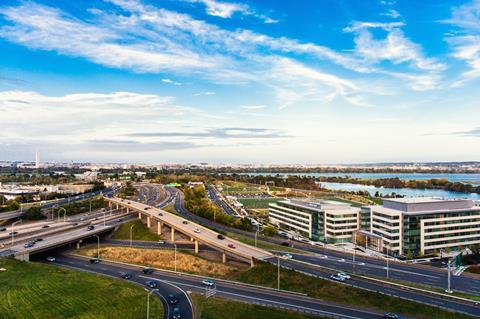 "We are excited to build on our foundation here in Northern Virginia," says Boeing chief executive David Calhoun on 5 May. "The region makes strategic sense for our global headquarters given its proximity to our customers and stakeholders, and its access to world-class engineering and technical talent."
Boeing confirmed the relocation shortly after The Wall Street Journal reported that the move was in the works.
Analysts say a relocation is not surprising, describing the company's Chicago headquarters as a holdover from a different era – and a structure that was not working.
But the decision to move to Arlington, rather than Seattle, strikes analyst Richard Aboulafia as a missed opportunity. He thinks Boeing should have instead moved its headquarters to Seattle, which would stress its dedication to fixing its commercial aircraft problems.
Boeing's Defence, Space and Security business is already based in Arlington.
"The aerospace and defence firm's employees in the region support various corporate functions and specialise in advanced airplane development and autonomous systems," the company says.
Boeing intends to open a "research and technology hub in Northern Virginia", part of an effort "to tap into engineering and technology talent", it adds. "The hub will focus on developing innovations in the areas of cyber-security, autonomous operations, quantum sciences and software and systems engineering."
Boeing chief engineer Greg Hyslop says, "Focusing our R&D and talent development in areas that support digital innovation will fuel the introduction of cutting-edge capabilities".
"This new hub in Northern Virginia will follow the successful implementation of this technology strategy in other regions," he adds.
The relocation follows changes made by Boeing during the last two years, the company says.
"We have adopted a flexible work strategy in parts of our company and are taking steps to be more efficient within a reduced footprint," says Calhoun. "This helps us channel investments toward our critical manufacturing and engineering facilities, and training resources."
The company says it still intends to "maintain a significant presence at its Chicago location and surrounding region".
Boeing moved its headquarters to Chicago from Seattle in 2001, part of a effort to separate the company's overarching management from its various business units, analysts say.
Back then, the philosophy that a company should stress shareholder value above all else was in full swing, and the Chicago headquarters would enable Boeing's top brass to focus on the bottom line without distractions, says Michel Merluzeau with consultancy AIR.
"Chicago… wanted to really work in isolation with investors" – with less influence from the commercial aviation business, Merluzeau says.
Cracks in that strategy became evident from the 737 Max crisis. Analysts have broadly attributed the Max problems to a shift in Boeing's focus away from engineering excellence and toward stock price and healthy quarterly reports.
"It was a dysfunctional arrangement," says Merluzeau. "Not because of location, but because of company culture and integration of that culture."
Aboulafia thinks Boeing would be better served moving to Seattle, where it could focus on addressing the many issues facing its commercial aircraft business.
"I understand why they want to follow all the other defence contractors to where the money is," Aboulafia says. "But it's also not where their problem is."