Boeing has increased 737 production to 19 jets monthly and is on track to hit a 31-monthly rate in 2022 and to clear its hundreds-strong Max backlog in 2023.
However, those plans remain subject to the timing of China's approval of the jet, and looming supply chain troubles could impact future narrowbody production, executives warn on 27 October.
"By the second half of next year, our industry will be supply constrained," Boeing chief executive David Calhoun says during the company's third-quarter earnings call. "Raw materials, logistics and labour availability will also be key watch items for future rate increases."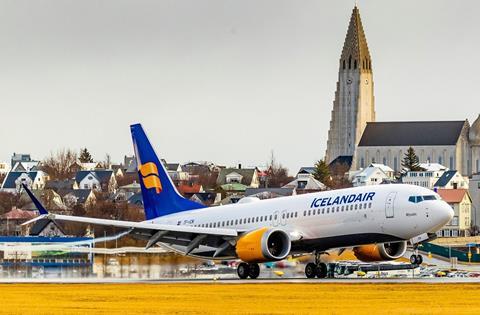 Chicago-based Boeing had been producing 16 737s monthly earlier this year, but hiked the rate to 19 in response to increasing demand. Calhoun says the company is "headed to" 31 jets monthly in early 2022.
Boeing has also whittled down an inventory of stored 737 Max that stood at about 450 aircraft at the end of 2020. The company has delivered "more than one-third" of those 450, Calhoun says.
But with production ongoing, Boeing's 737 Max inventory currently stands at about 370 aircraft, says Boeing chief financial officer Brian West.
"We know where the vast majority of these aircraft are going," West says. "Given demand, we anticipate delivering most by the end of 2023."
But much depends on China, a country that has refrained from green-lighting the 737 Max amid a broader, long-simmering US-China trade dispute.
"This assumes we resume deliveries to our customers in China during the first quarter of 2022," West says of Boeing's delivery expectations. About one-third of the 370 stored Max are for delivery to Chinese airlines, he adds.
Boeing completed a 737 Max flight test in China during the third quarter and is working "toward [Chinese] approval by the end of the year, with a resumption of deliveries to follow in the first quarter of next year", Calhoun says.
"The timing of remaining regulatory approvals will shape our delivery plans and production rate ramp beyond 31 per month," he adds.
Calhoun warns that narrowbody aircraft production programmes could face supply chain troubles next year and into 2023, but says Boeing's 737 Max plan accounts for such risk.
"At 31 [monthly] – we believe we have a supply chain that can handle that," Calhoun says. "We are actively working to ensure the production system, including the supply chain, is stable prior to making decisions to further increase the production rate."
The comments mirror those made on 26 October by Raytheon Technologies CEO Greg Hayes, who predicted the industry will face long-term "global supply chain pressure".
Calhoun broadly expressed optimism about the 737 Max programme, noting that demand for the jets has increased this year, and predicting more orders will materialise as the aerospace industry rebounds.
"As domestic and regional traffic recovers – for example, intra-Europe – demand for the 737 Max continues to improve," Calhoun says.
Thirty-one airlines have returned some 200 previously-grounded Max to service, and more than 175 countries have approved the jet, says Calhoun.
Boeing is also progressing with certification of its 737 Max 7 and 737 Max 10; it aims to deliver the first Max 7 in early 2022, followed by the first Max 10 in 2023.