Though Boeing has made notable progress in returning its 737 Max programme to health, the company must ramp production and deliveries in the coming months to have a shot at achieving its 2022 goal.
Those goals include delivering about 500 737s this year, and boosting 737 production to 31 jets monthly.
On 12 April, Boeing released its first-quarter delivery figures. It handed over 86 737s (including 81 737 Max and five previous-generation 737NGs) in the first three months of the year – an average of 29 narrowbodies monthly. The first-quarter deliveries figures were up significantly from the first quarter of 2021, when Boeing delivered 63 737s, its data shows.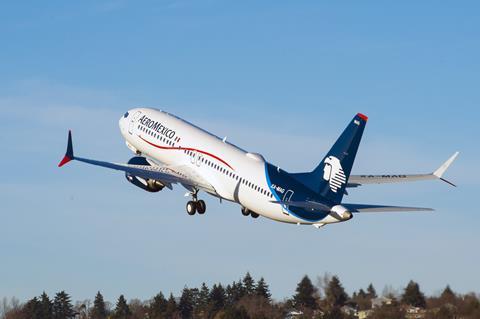 Based on the latest figures, analysts view Boeing's 737 programme as headed in the right direction. But, several analysts think the airframer is about one month behind where it should be to achieve 500 Max deliveries in 2022. They say lack of deliveries to China are among factors holding things up.
"I don't think they will hit their target for this year. But deliveries will ramp up over time," says financial analyst Ron Epstein with BofA Securities.
Boeing declines to comment about its progress toward its 737 delivery and production goals, noting it is now in a quiet period ahead of reporting its first-quarter 2022 earnings, scheduled for 27 April.
"China will make the difference," says Ascend by Cirium senior consultant Max Kingsley-Jones, noting Boeing holds in inventory some 130 737 Max earmarked for Chinese customers. He calls Boeing's lack of 737 deliveries to China's airlines "the single-biggest problem Boeing faces".
In December, China issued an airworthiness directive detailing fixes that would clear the 737 Max to fly. But no Chinese carriers have yet resumed Max flights.
Analysts have long viewed China's clearance of the Max as embroiled in geopolitical tension. Now, they suspect progress may slowed again due to the deadly 21 March crash of a China Eastern Airlines 737-800. The investigation into that crash, which has no apparent link to the 737 Max, is ongoing. Still, the incident prompted the grounding of China Eastern's 737-800 fleet. Analysts suspect China will wait for information about the cause before letting the 737 Max return-to-service progress.
Epstein also notes that Chinese airlines likely do not need or want new Boeing narrowbodies. Many are already sitting on fleets of grounded 737 Max, and China's air travel industry has recently soured amid rising Covid-19 rates, analysts say.
CLEARING 737 MAX INVENTORY
In January, Boeing chief financial officer Brian West said the airframer aimed to deliver in the "ballpark" of 500 737s in 2022, equal to an average of 42 monthly. Boeing has not committed to a more-specific number, and West noted that deliveries are commonly slower early in the year.
Achieving 500 deliveries would allow Boeing to reach another goal: to deliver "most" of its inventoried 737 Max by the end of 2023, West said. The inventory stood at 335 in January, down from 441 near the end of 2020, according to Cirium and Boeing.
Reaching the 500-delivery goal will be much easier if Chinese airlines start taking 737 Max, but other factors could be holding back deliveries, says Michel Merluzeau, aerospace analyst with consultancy AIR.
He suspects Boeing's 737 Max delivery pace might be limited by the pace of the FAA, which issues the airworthiness certificates that clear each 737 Max to fly. The FAA took that responsibility away from Boeing amid the grounding, in 2019.
Staff shortages at Boeing and substantial modification work might also be holding things up, Merluzeau adds. In addition to needing flight control system updates, many 737 Max in Boeing's inventory need new cabins, a result of Boeing shifting jets between customers, he says.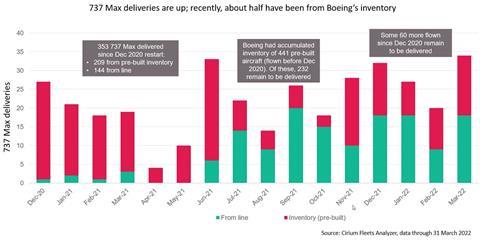 Kingsley-Jones notes that about half of 737 Max delivered by Boeing in recent months have been from the inventory, while the other half have been new-builds.
As a result, Boeing has made slow progress in whittling down its inventory of stored jets, analysts says.
"The stored aircraft volume is not declining as fast as I would like," says Merluzeau.
Boeing's delivery rates are moving in the right direction. The company delivered 34 737 Max in March, up from 20 in February and 27 in January, and more than in any month since the FAA lifted the type's grounding in November 2020, according to Boeing data.
"The [first-quarter] delivery data is strong, and should support confidence for the continued increase in Max deliveries, but the full year target of ~500 for Max deliveries could be a stretch," says a 12 April report from RBC Capital Markets.
HIKING PRODUCTION
Boeing is also working to boost 737 production. In January, West said Boeing was producing 27 of the narrowbodies monthly and heading to a production rate of 31 by "early" this year.
The company has not been more specific and has not since said where its 737 production rate stands.
But Kingsley-Jones says Cirium data suggests Boeing's current production rate may be a ways from 31 monthly.
Cirium does not track Boeing's actual production (the airframer does not disclose that data on a monthly basis). But Cirium does collect the date of each aircraft's first flight, which can serve as a proxy for production, says Kingsley-Jones, because aircraft typically make first flights shortly after being produced.
Cirium's data show that 23 737s made first flights in March, up from 17 in February and 16 in March.
"That, to me, suggests they are some way away from getting to 31," Kingsley-Jones says.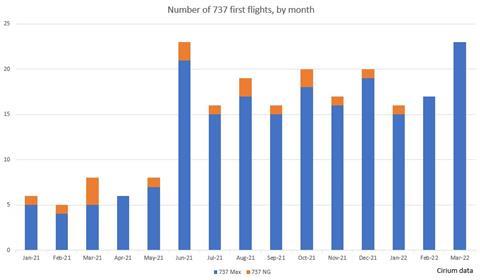 He warns that first-flight dates are not an exactly stand-in for Boeing's production figures, noting uncertainty about exactly when Boeing classifies an aircraft as produced – whether at the start of production, as does Airbus, or at the end.
"Boeing may not be flying every aircraft that has rolled off the line immediately, so that may also make our numbers lower," Kingsley-Jones adds. "Our data may not be absolutely complete, but it should be close, so is a useful way of understanding the sorts of volumes of aircraft being completed."